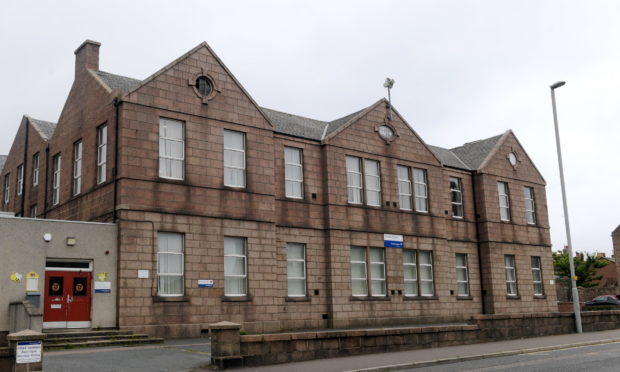 A north-east mum whose child's first day at school was cancelled following the detection of Covid-19 amongst teaching staff has been left heartbroken.
Dozens of excited pupils were due to start primary one at Peterhead Central School last week but have been left disappointed when their first day was scrapped at the last minute.
It has since been postponed by more than a week, after two members of staff there tested positive for coronavirus.
One mum, whose son was due to start primary one, told us: "He was gutted.
"He was due to be in at 9.30am then they moved it to 10am to see if it the weather would die down a bit.
"Then it was the flooding, and it was closed to primary one then next we know it was closed to the whole school. This all happened in the space of an hour.
"I think they have been responsible with what they have done and they have kept us in the loop as much as they could."
However even once the weather cleared, confusion still reigned over the fate of the much-anticipated return to school.
"We were originally told there was flooding on the roof, or something" she added.
"I think they got the go ahead to open the school after the bad weather, then within moments of that it was closed again because NHS Grampian contacted the school.
"They had a window of about 20 minutes and the kids would've been in the building,
"It could have been a disaster."
Instead, the school will remain closed to pupils until at least Monday, August 24. Primary two to seven pupils will resume learning through the online Google Classroom system used since schools in Scotland closed their doors in March.
Parents of primary one pupils aren't set up on the system, though, meaning they'll have to wait another week before any form of teaching begins.
It's also an unfortunate delay for those hoping to make new school friends.
"My son is just heartbroken," the Peterhead Central parent added.
"During lockdown all he wanted was to go and see his pals. He was so exited to get to go to school and meet new people and make new friends. When I told him it was not happening he just broke his heart.
"He was up, washed, hair done, uniform and bag packed, all ready to go. But he is definitely better being safe at home."
In her latest update to parents the school's headteacher Paula Musson said the school's closure was a "precautionary measure."
She wrote: "To minimise disruption to the education of pupils, arrangements are being made for pupils to follow online learning from Monday.
"I am very grateful for the patience and understanding you have shown while discussions continue, and further information will be shared with you as the week progresses."
Banff and Buchan MP, David Duguid, said it's important children get back into the classroom as soon as possible.
"I think parents will understand why the school has to remain closed for the time being," he said.
"However, I would expect some form of home or online learning will be made available for all pupils.
"Our youngsters have missed enough schooling over the past five months. It is important they can get back into the classroom as soon as it is safe to do so."
Banffshire and Buchan coast MSP Stewart Stevenson added: "I understand many parents may feel concerned about the temporary closure of Peterhead Central Primary School. We know from the recent outbreak of Covid-19 in Aberdeen how swiftly we must act to ensure there are no further outbreaks.
"The school closure is a necessary measure and I have no doubt Aberdeenshire Council will do all they can to allow the school to reopen as soon as possible."
The council and health board say the closure will be reviewed again on Thursday.
An NHS Grampian spokeswoman added: "We appreciate this will cause disruption for pupils, staff and parents and are grateful for their continued understanding and cooperation with the teams involved."