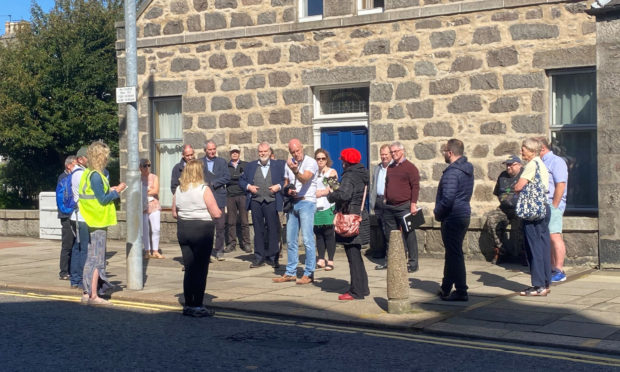 City planners have been accused of "box-ticking" after a promise to review temporary road changes did not lead to immediate change.
Traders and residents took a two-hour walk with council officers in Rosemount Place last month and were told the local authority was considering getting rid of a controversial bus gate.
Now, they have been told it would be "premature" to remove it before its impact on schools traffic is taken into account – although a trial removal is planned at the end of this month.
A 13-page dossier, issued to Rosemount campaigners after the meeting, has done little to allay concerns.
The popular shopping street has been made one-way from Argyll Place to Mount Street, with a contraflow for bikes and buses in the other direction from the bus gate at Esslemont Avenue.
It is part of an Aberdeen-wide £1.76 million project to make room for physical distancing and pedestrians and cyclists.
Traders claim the disruption to customer parking and the road layout could be enough to force them out of business if changes are not made soon.
They also reported speeders were using the one-way system as a "race circuit" and that drivers disobeying the new layout were a "head-on smash waiting to happen".
A council team, headed by the authority's chief officer for capital John Wilson, spent hours walking the street and committed to looking at getting rid of the bus gate on the back of the "strength of feeling".
Concerns raised included side streets such as Belgrave Terrace and Belvidere Crescent being used as rat-runs to avoid the upheaval.
Last night Alan Watt, owner of Belvidere Gallery and a spokesman for the local traders association, said: "We are very disappointed our views have not been taken into consideration at all in this box-ticking exercise.
"It all seems to be weighted towards cycling, which would not be an issue if traders and their customers could be given some consideration.
"This is something we have been repeating for ages now but don't seem to be getting anywhere. There is no movement on anything we have raised."
The council has promised to up the number of wardens in the area to ensure visitor parking spaces and loading bays are available near business premises.
Officers also intended to call in police to make sure motorists stick to a new 20mph limit enforced in the area.
Council transport spokeswoman Sandra Macdonald said: "There are some suggestions we are not proposing to take any action on but I was struck by how much we did take on board and will review, monitor and enforce.
"In particular, we are looking at the bus gate and how that will operate going forward – they are waiting until the schools bed in only a couple of weeks away – but also looking at through traffic, parking access and loading bays.
"Having seen the amount of work going into this and knowing officers will continue to monitor it, hopefully the traders can pull together in Rosemount, get on board and make it work."