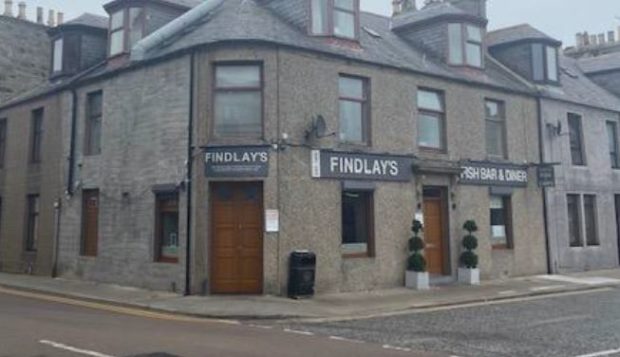 A Fraserburgh chip shop has been let off with breaking planning rules to install a new fryer so that it could offer up gluten free suppers.
Ian Findlay, owner of Findlay's Fish Bar and Diner on Cross Street, failed to ask for permission from the council before dismantling a red brick chimney and installing a modern flue atop the historic listed building in the town's conservation area.
But when he was threatened with having to undo the works, more than 70 locals stepped in with supportive letters praising the change.
The issue was referred to the council's Banff and Buchan area committee yesterday.
Mr Findlay argued he was unaware planning permission was required, and that the building was listed.
His agent, Craig Fyvie of Baxter Design, said: "The chimney that was removed was a safety hazard.
"We would suggest luck was on our side as a fire should really have taken place by now due to poor installation by the previous installer."
Mr Findlay said the new flue was needed for his new fryer, which means he can offer gluten free food, an offering creating three new jobs to bring his staff tally to 30.
However both Aberdeenshire Council's built heritage team and Historic Environment Scotland said the works had a "detrimental impact" on the area.
Similarly, town councillor Charles Buchan claimed the town's buildings were being "gradually degraded" and warned of "a long-term decline in tourism potential" should the works be allowed to remain.
However fellow councillor Brian Topping's motion to overturn refusal of the works was backed by his counterpart Doreen Mair.
She said: "We have to weigh up the economic benefit to the town against the visual impact of this.
"This is a very successful business and, although we want to keep the integrity of the historical aspect of the town, we also need to think about the regeneration of the town as well."