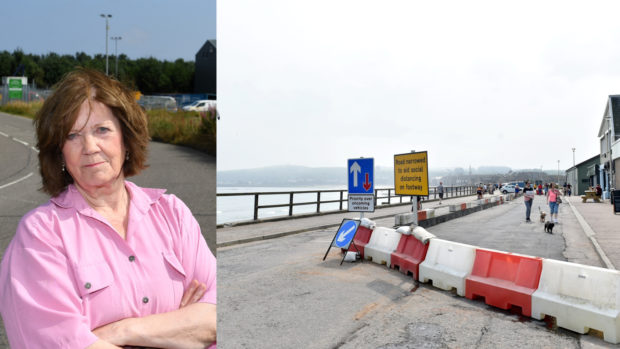 An Aberdeenshire councillor worried about controversial social distancing measures in Stonehaven and their impact on businesses has warned that if concerns are not addressed "we won't have a town centre".
The council's infrastructure committee was yesterday discussing the impact of Spaces for People and the effect it has had so far on local economies where it has been introduced across the region.
Since the award of a £310,000 grant, measures including widened pavements, pedestrianisation and one-way systems have been implemented in Banchory, Ellon, Fraserburgh, Inverurie, Peterhead, Turriff and Stonehaven.
The initiative has been designed to allow for social distancing in busy areas, such as town centres.
But a report before councillors said "the response to these measures has been mixed".
The report went on to explain that while "many accept that there is a public health benefit", there has also been "extensive opposition" – in particular to the loss of on-street parking in order to make way for more space for those on foot.
During yesterday's committee meeting, which was held online, Stonehaven and Lower Deeside councillor Wendy Agnew told councillors certain businesses in Stonehaven were "getting worried" about the impact of the measures on their income.
She said: "The anger is starting to overflow now.
"One businessman said to me just before this meeting Stonehaven is now closed for business.
"I believe there are now about six businesses thinking of closing up, and if it goes on like this we won't have a town centre.
"They are seeing as massive drop in turnover because there's no car parking spaces, and that is the actual problem in Stonehaven."
In response, infrastructure committee chairman Peter Argyle said: "I accept there are challenges around the whole business of Spaces for People in Stonehaven, but I think to put out the message that Stonehaven is closed for business is not the way to go.
"We need to work on this in a positive way and get that positive message out that Stonehaven is a wonderful place, with lots of fantastic independent shops and it's a place people should go.
"The message you should take back to businesses is to do as Inverurie Business Improvement District did, and put out a positive message.
"I know that other communities have done the same. I know that Peterhead has been very active in promoting their town centre. And we all need to do that consistently across the north-east."