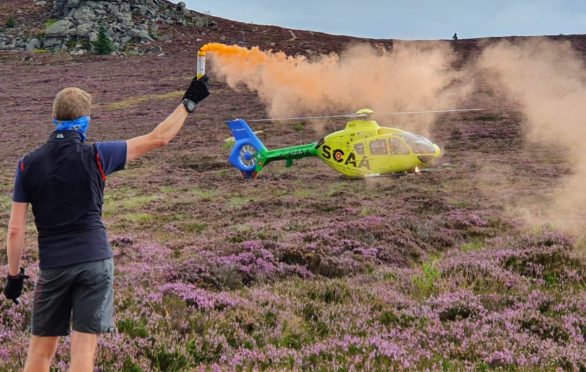 Scotland's Charity Air Ambulance (SCAA) helped transport an injured hillwalker from an Aberdeenshire summit to Aberdeen Royal Infirmary in just 10 minutes this weekend.
Helimed 79 was deployed from Aberdeen to Bennachie at about 1.30pm on Saturday in response to reports a walker had fallen and injured her hip.
It's understood the woman also suffered a cracked pelvis.
The SCAA aircraft joined an emergency response that included road ambulance teams, police, and the Aberdeen and Braemar mountain rescue teams.
Malcolm Macintyre, of the Braemar Mountain Rescue Association, said: "Bennachie is popular as it's close to Aberdeen and to Inverurie.
"Although it is quite small, it is still a proper hill.
"It's steep, it's got heather and rocky bits, and there's always a risk of falling off the summit of Mither Tap and hurting yourself.
"Because a lot of people are there, we get quite a lot of call-outs on Bennachie it but it's just because of the sheer number of people that walk it."
Mr Macintyre said the team has been responding to an increasing number of incidents in recent weeks as pandemic restrictions have lifted.
He added: "It's definitely picked-up since lockdown started to ease.
"Given the massive numbers of people around Deeside, visiting Loch Muick and Lin of Dee and these sort of places, it's not as busy as we thought it might have been, but we are certainly being kept on our toes."
The SCAA helicopter's journey from the top of Bennachie to ARI was just 10 minutes – an operation that would have taken much longer by road.
Helimed 79 made its first flight from Aberdeen in April, after years of fundraising and a successful campaign supported by the Press and Journal for it to be based in the city.
The service relies on donations from the public to fuel its life-saving operations.
Meanwhile, police continued search efforts yesterday for a rock climber who may have fallen off north-east cliffs.
Over the weekend a major multi-agency response was launched near the Bullers of Buchan to search for a man who may have fallen into the water.
The alarm was raised at about 7pm on Friday by fellow climbers, and HM Coastguard in Aberdeen launched an immediate response alongside officers from Cruden Bay and Peterhead Coastguard rescue teams.
Rescue Helicopters Bond 1 from Aberdeen scoured the area before being relieved by HM Coastguard Rescue Helicopter 151 from Inverness.
The search recommenced at 6.30am on Saturday, with Coastguard teams from Peterhead, Cruden Bay and Fraserburgh as well as RNLI Lifeboats from Peterhead and Fraserburgh scouring the coastline.