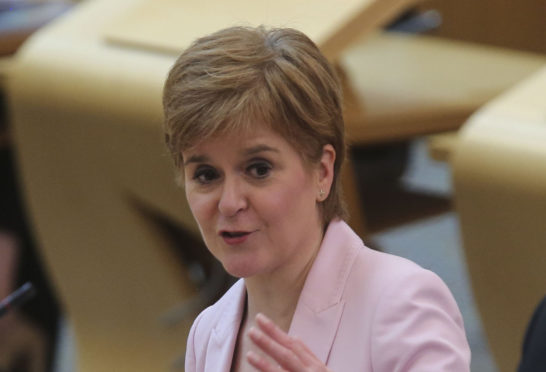 Lockdown measures in Aberdeen have been relaxed this morning – but there are suggestions Scotland's chief medical officer was overruled on the way forward for the city.
While friends and family may be reunited today, yesterday politicians and civil servants spent hours at loggerheads.
Bans on indoor gatherings and travel have been lifted and bars, cafes and restaurants will be allowed to open on Wednesday.
First Minister Nicola Sturgeon last night released a statement, praising all in Aberdeen for complying "so well" with the rules.
She added: "In particular I am grateful for the understanding of the businesses that were required to close in order to help beat the virus.
"It's due to the commitment of people in the city, as well as world class contact tracing, that means we are now able to lift some of these measures from Monday and then again from Wednesday.
"But it is vitally important that everyone follows the FACTS rules in order to prevent an outbreak of this scale occurring again.
"That way we can move forward and get our economy, our society and our lives generally back to as much normality as possible."
The government's resilience committee met with council bosses on Sunday morning to try and find a way out of lockdown.
But while all agreed a five-mile travel restriction and a ban on indoor gatherings should be eased, the issue of hospitality premises reopening had officials and councillors at stalemate.
It is understood the chief medical officer, Gregor Smith, had wanted only cafes to open their doors on Wednesday, but in the end, Nicola Sturgeon backed council calls for pubs and restaurants to be allowed to resume business too.
Environmental health officials must, however, assess each premises before reopening, either by visiting or over the phone.
The relaxation of some rules, which came into force at midnight, also means visiting at Aberdeen hospitals and care homes is possible once again.
And it brings the city's other businesses – such as bingo halls and gyms – in line with their counterparts across Scotland, which will be allowed to reopen in the coming week.
Last night, the city council's co-leaders claimed it was their lobbying which meant the city's "fragile economy" would be free of the restrictions imposed.
Councillors Jenny Laing and Douglas Lumsden had hit out at First Minister Nicola Sturgeon on Wednesday, even before the official announcement lockdown would be extended into a third week.
The administration leaders claimed the Grampian incident management team, a panel of experts, had advised rules were relaxed from this past Saturday.
Aberdeen Labour's Mrs Laing said: "Aberdeen citizens and businesses have suffered as a direct result of the statutory restrictions imposed on Aberdeen by the Scottish Government.
"Given the infection rates have continued to drop in line with the IMT projections from last week, we once again argued that all restrictions should be lifted by this date.
"On today's call which lasted two hours, it appeared the chief medical officer was still favouring a more cautious approach and wanted the statutory restrictions to be phased in over a longer period.
"We argued our case vigorously and we are delighted that the Scottish Government and first minister have favoured our position."
The latest figures show 427 cases in Grampian since July 26 – with 259 of those people shown to have links to an initial cluster of cases traced through Aberdeen's pubs.
But daily figures showed only three new cases in the north-east in the last 24 hours, compared to 37 in Tayside.
The figures meant some limited restrictions in the neighbouring region – but no lockdown despite 110 cases being linked to a single factory in Coupar Angus.
Conservative council co-leader Douglas Lumsden said: "We argued strongly that Aberdeen businesses should not suffer while infection rates in other parts of Scotland are much higher.
"The reputation of Aberdeen has been damaged by these statutory restrictions and consumer confidence will be key to building up Aberdeen's economy.
"We therefore pledge to work with business and consumers in Aberdeen alongside the UK, Scottish Government and all other agencies to ensure every possible help is provided to allow business to flourish in the Granite City."
Relief was shared across the city's hospitality trade, which employs around 14,000.
And there was optimism the council's environmental health team had a grip of the situation as Aberdeen's second lockdown was relaxed.
Mike Wilson, whose Epic Group runs a number of venues, including Prohibiton, said: "Like all Aberdonians, I'm happy the city's health is on a much better footing – and that's with children back at school.
"That's of paramount importance, getting case numbers down again. And the city's back open again.
"The licensed trade is now in no doubt what is expected of them. We have had a tough lesson.
"We have worked closely with environmental health in the last weeks and I think Aberdeen is in a better place to reopen than it was recently."
Siberia Bar And Hotel director Stuart McPhee added: "The council and environmental health have been very proactive, getting as much information to us as possible and doing site visits as early as last Wednesday.
"Ours was last Friday – which was a very useful exercise – and starting that early probably got a good number of premises out the way so they have another good run at it this week.
"I think the main thing people will find is much stricter enforcing of bookings and the three-household-rule."