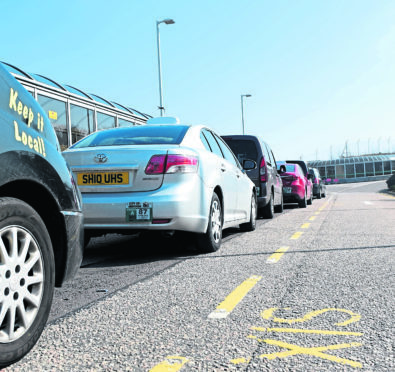 The price of taxi trips to and from Aberdeen International Airport could go up to help cover the cost of a controversial drop-off fee for cab firms.
Aberdeen City Council's licensing committee will meet next week to discuss two options for new tariffs.
Under both options, people getting picked up from the airport at Dyce will face a £1 increase to fares.
Meanwhile, journeys ending at the "inner forecourt"  at the front of the building would result in an additional £3 charge.
The proposed changes come after a divisive barrier charge was increased by £1 at the airport towards the end of last year.
Fares in the city had already increased by a hefty 7% but that did not account for the changes at the airport – leading to this further review of tariffs across the board.
The first option councillors are to discuss will revolve around maintaining the current "basic tarriff" of £2.60 for the first 940 yards travelled in a cab.
Aberdeen charity boss claims taxi fare increase will 'stop people leaving their homes'
However the second option suggests a 3% drop in the cost of taxi trips – and suggests fares be lowered to £2.55 for the first 940 yards.
A report to the committee, authored by Karen Gatherum, explains how changes at the airport necessitated the possible change to tariffs.
The paper states: "The barrier charge was increased by £1 in the same week as the December 3 2019 licensing committee, where the committee fixed the fares for 2020  and 2021.
"The legislation does not allow for a partial fare review, therefore, the review had to be carried out in its entirety."

After the meeting on Tuesday, a consultation will be held to gather further options before yet another report is presented to the committee in November.
There was anger when the airport drop-off fees were increased in December.
The raise meant that motorists passing through the 10-minute express zone at the front of the Aberdeen International Airport terminal have to fork out £3 for doing so.
Previously those using the area had to pay £1 but this was doubled to £2 in April 2016.
Airport bosses said at the time that the increase would allow them to invest more into their own facilities, and help secure more flight routes and holiday destinations.
One taxi driver, who did not want to be named, said: "With it going up 300% in a few years, it's quite clearly just a money-making exercise.
"It's principally the business community who use this and it's another tax on them – particularly the oil and gas industry where companies have been struggling."
To read the full papers which councillors will discuss, people can click on 
https://committees.aberdeencity.gov.uk/documents/s113067/Final%20report-%20taxi%20fare%20review.pdf