Aberdeen's cafes, restaurants and pubs were finally able to welcome back customers after a three-week closure introduced to stem a coronavirus outbreak.
The city's hospitality trade was forced shut by First Minister Nicola Sturgeon on August 5 as she introduced a local lockdown.
Environmental health officers have since checked more than 300 premises but it expected to be Friday before all businesses that have come forward will be assessed.
As doors opened and businesses began trading once more, Ms Sturgeon thanked the city "for complying so well with the restrictions".
Customers flocked in socially distanced droves to their favourite spots across the city, eager to support businesses that have struggled through the lockdown.
With it being the second time residents have experienced such a reopening in the city in a matter of months, keeping everyone safe was at the forefront of people's minds.
IN PICTURES: Pubs, restaurants and cafes reopen across Aberdeen
Michael Heaney, 67, from Footdee, Aberdeen, said: "Most restrictions have now lifted but we're not back to normal just yet and people still need to be sensible about it, be careful and keep their distance."
The vigilance was the same at the other end of the age spectrum, as Holburn Street 20-year-old Ryan Duff said: "It's good to see hospitality reopening.
"Hopefully we've learned from what happened and it won't happen again.
"Lockdown was frustrating but necessary. Things were getting back to normal and then the local lockdown came in, but the cases were increasing and it had to be done.
"I've been following the rules and it's become almost a daily routine now, making sure I have keys, wallet and my face mask before I leave."
Politicians have invited the public to enjoy the return of the hospitality trade while also warning them to stick to the rules.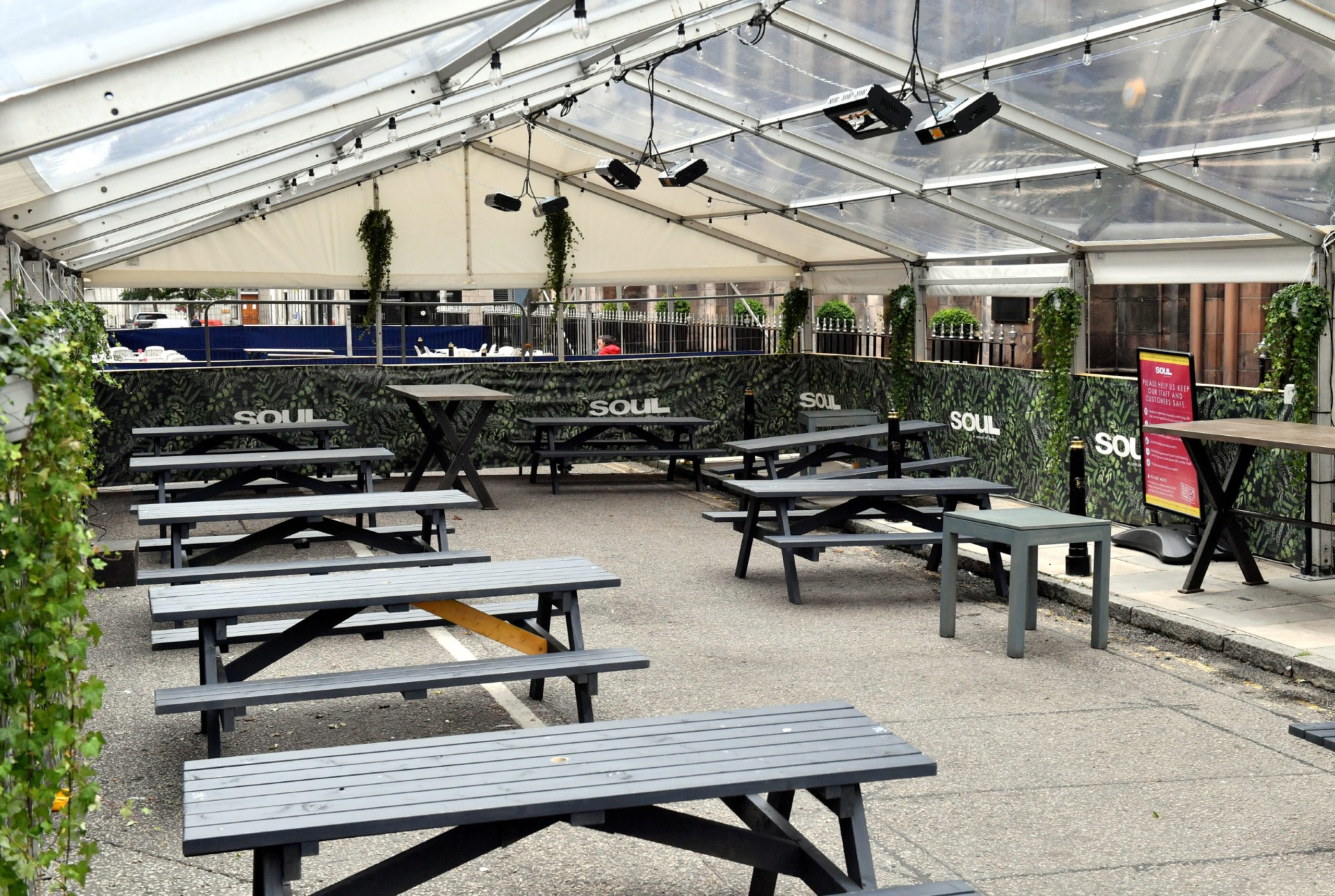 Meanwhile, work continues to check the businesses not yet reached by environmental health officers.
Aberdeen Council has drafted in additional staff from elsewhere in Scotland to assist with the effort.
Contrary to the Scottish Government's stance, the local authority has advised bosses they can open before being checked for compliance with the safety rules.
Licensing board convener Marie Boulton said yesterday: "Businesses who have not had their assessment but wish to open may do so as long as they have actively engaged with the council's environmental health and trading standards.
"I would like to express my thanks and appreciation of the dedication and hard work of the city's environmental health and trading standards officers who have been working tirelessly over very long hours while local restrictions have been in place to do all that they could to help businesses in the hospitality sector get ready for reopening.
"It is vital that everyone continues to work together, including public sector partners, premises and the public, to make the release from lockdown a success.
"We are dealing with an enemy that is invisible and so we must be vigilant at all times and remember the FACTS guidance."
An extension to the Eat Out to Help Out for our city doesn't need to come this week, or next, but it should be rolled out before the end of the year."

FSB's David Groundwater
Having been allowed to reopen as the virus transmission rate fell, hospitality bosses have now turned their attention to pressing the UK Government to extend a helping hand.
The Federation Of Small Businesses has found 84% of Aberdeen firms support calls to prolong the Eat Out To Help Out scheme as a means of encouraging people back to the venues.
The Treasury-backed discount is worth up to £10 per person sitting down for a meal and non-alcoholic drinks – but the scheme is to cease on Tuesday.
In place each Monday through Wednesday in August, Aberdeen's traders will only have benefited from four full days of an available 13.
David Groundwater from the FSB said: "Aberdonians should be allowed to have a fair crack of the whip.
"An extension to the Eat Out to Help Out for our city doesn't need to come this week, or next, but it should be rolled out before the end of the year."
"We're not asking for extra, just the help we missed out on."
Earlier this week, the Treasury told The P&J all support would remain "under review".