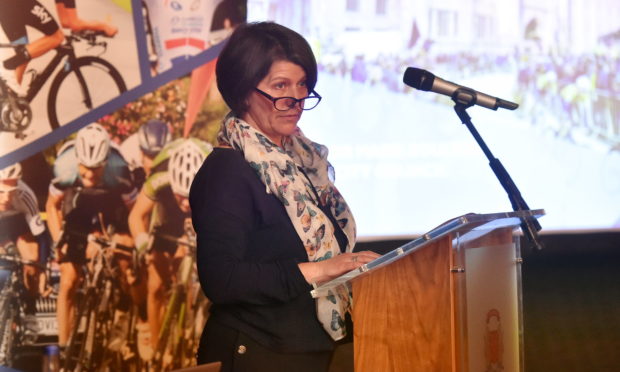 Aberdeen's under-fire licensing board chief Marie Boulton has been accused of "actively misleading" the public – and told her position is now "untenable".
The senior councillor told an emergency licensing summit, held on August 11, that giving the public seven days to object to temporary licence bids was "absolutely essential".
The meeting, which she called a week after the city was forced back into lockdown, came 12 days after she is said to have expedited an application from major city pub group PB Devco.
It was not mentioned at the online seminar, during which Mrs Boulton told trade bosses: "I think it's very helpful to clarify that the licensing board does act under law.
"It's not down to their discretion and I think it's important to say the licensing board in Aberdeen didn't choose to use the fast-track system which some other authorities did, which then would have negated the opportunity to advertise the licences.
"We felt it was appropriate and absolutely essential that people could see what was happening and have the opportunity to make their representations either objections or whatever."
But in a string of e-mails, seen by The P&J, the local authority's licensing team leader Sandy Munro said Mrs Boulton had "truncated" the seven-day advertising period after only 72 hours.
Claim emails show council co-leader Laing 'totally out the loop' as calls for licensing convener Boulton to go continue
The licensing solicitor said due to "issues" the application from PB Devco for The Draft Project had not been advertised until July 28, but was signed off on by the board convener only three days later.
While the normal legal requirement is for occasional licence applications to be listed for a week, the Scottish Government changed the rules to allow fast tracking of as premises reopened throughout lockdown – but the council publicly proclaimed it would not use them.
Mr Munro said Mrs Boulton determined it was "justified" to use those new powers in the case of the The Draft House to allow opening on August 1, coinciding with Aberdeen's season opener against Rangers.
The marquee, within the footprint of the former Bruce Millers music shop and boasting room for 280 people, later became one of the bars linked to the cluster of coronavirus cases which brought about the lockdown.
PB Devco boss Stuart Clarkson told The P&J there was "no way" the rules were bent for his firm, stating: "I have no idea how the licence was dealt with, just that we got it in the nick of time to open."
Calls for Mrs Boulton to quit her job have grown louder this week as the handling of The Draft Project application unfurled.
Leader of the council's largest group, the SNP, Alex Nicoll said: "If the people of Aberdeen had any faith left in Councillor Boulton, it will be gone now – we need strong leadership and that is not what we have seen during what has been an incredibly challenging period for the licensed trade in our city.
"This latest revelation which appears to show Councillor Boulton actively misleading business and indeed residents across Aberdeen leaves her in an untenable position and she must resign immediately."
Liberal Democrat group leader Ian Yuill, who previously called for an investigation into The Draft Project's approval, has now added his voice to calls for Mrs Boulton to quit.
"It is clear Councillor Boulton misled the hospitality trade emergency summit when she said Aberdeen Licensing Board had not used the fast track process to approve licence applications," he said.
"Fast track was used – apparently with Councillor Boulton's authorisation – to grant a licence to The Draft Project by Soul at the end of July.
"Councillor Boulton must immediately apologise to the many people she misled and the Liberal Democrats also believe it is time for her to consider her position as licensing board convener."
When The P&J asked Mrs Boulton whether she felt she had misled people, town house sources said they did not believe fast track had been used as the application itself had passed in seven days – despite the public only being given three days to comment.
In a statement, the licensing board convener said: "I absolutely stand by my comments and I confirm that I was asked to fast track an application for The Bieldside Inn, which I refused, in order to ensure the public had an opportunity to make appropriate representations.
"In respect of The Draft Project, it is as obvious as day from correspondence between our officer and Councillor Alex McLellan the application was received on July 22, processed on July 24 and granted seven days later.
"It is really disappointing that the SNP are politicising the licensing board and criticising officers who acted diligently at all times in giving me appropriate legal advice."