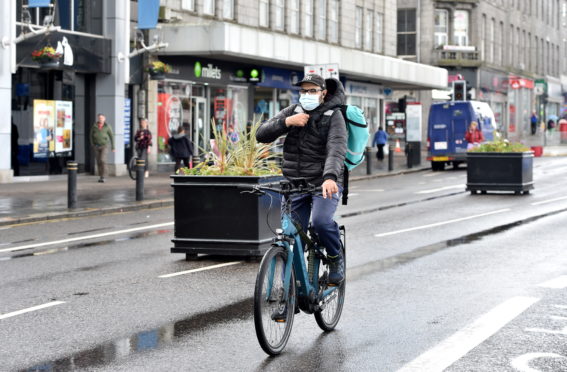 Hospitality businesses which adapted to the three-week shutdown of sit-in trade will no longer be "punished" by rules around relief funding.
The Scottish Government has set up a £1million support scheme designed to help cafes, bars and restaurants which were forced to close.
Those who tried to stay open and offer takeaway services during the lockdown were originally to be excluded from the grant scheme.
Aberdeen City Council's chief city growth officer Richard Sweetnam had told a meeting of industry bosses that the "grey area" was "clearly punishing a lot of premises in the city that have been forced to shut down".
He argued they would still have lost money despite trying to keep business going.
Funding has also been made available for firms impact by the knock-on effects of the lockdown, including hotels and shops which were able to stay open but suffered for the lack of footfall.
Although bankrolled by the Scottish Government, the council is responsible for handing out the money – but was tied to the rules set out by ministers.
Depending on the value of their premises, business bosses could receive either £1,000 or £1,500.
Based on the rateable value of properties, using the high rate from the business rates system of £51,000 as a cut-off.
Unlike previous coronavirus emergency grants, companies can apply for help per property but can only receive a maximum of £10,000.
The £1m pot has been split into two funds, the first worth £900,000 for hospitality businesses directly affected and the other as a £100,000 discretionary fund for all other sectors stung by the measures.
But until yesterday, any cafe, restaurant or bar which offered takeaways was ineligible to apply for a grant from the main fund.
It would have meant more pressure on the discretionary pot of cash, risking potentially tens of thousands going spare.
Council leaders also argued it would increase demand on the £100,000 kitty, meaning less help was available for struggling hotels and shops for example.
Applications for the main £900,000 fund opened on August 20 and last night the council announced they were accepting asks for money from the discretionary scheme too.
Council leader Douglas Lumsden said: "It is a relief as it would have been really tough on those businesses who offered takeaway just to keep ticking over, but still with a huge hit to their turnover."It's pleasing the Scottish Government have listened to us on that.
"We also got confirmation any of the £900,000 not claimed can be used in the discretionary fund, meaning the full £1m will be used help businesses in Aberdeen."
More information can be found on the council's website.