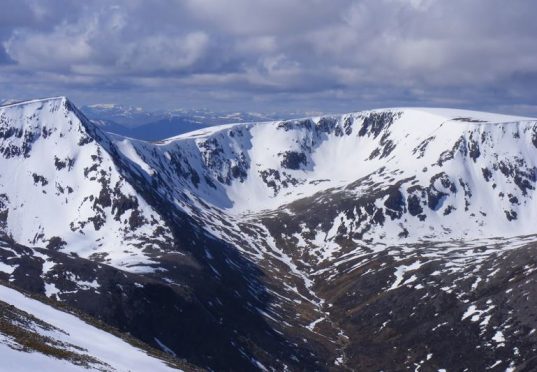 Rescue teams scoured Scotland's second highest mountain this week to bring four "ill prepared" walkers home safely.
The volunteers from Braemar Mountain Rescue were enlisted to help the men, who had lost their way atop Ben MacDui in the Cairngorms
After finding themselves in difficulty on their way to the summit, the group made an emergency call to the police at about 2.30pm on Thursday.
Utilising the an app called What3Words, they were able to narrow down their location for the rescue teams searching for them.
Recently, more and more emergency services have taken to using the app as a way of tracking down those in need of assistance.
Braemar Mountain Rescue support manager Malcolm Macintyre, however, said faith in a good map and being well-prepared can help avoid these kinds of incidents.
He said: "The four lads in their 20's were not as well prepared as they should have been for the trip up Ben MacDui.
"With summer very much behind us, it is important to prepare for the conditions that you might find when out walking.
"Unfortunately for this group they left the house without head torches and some without walking boots or a map.
"The paths are sometimes hard to keep track of especially as visibility changes in the winter months, and this resulted in a long night for the group."
The two mountain rescue teams managed to track down those in need of assistance by about 10.30pm.
After linking up with the group, rescue specialists were able to guide them back to the foot of the mountain.
Mr Macintyre added: "Thankfully no one was injured during the incident and after we found the group it was just a matter of walking them back down.
"I hope that in the future those trekking will come prepared to help avoid incidents like this one, especially with winter coming."
The shaken and weary group eventually made it home at around 2.30am on Friday following their chastening mountain experience.