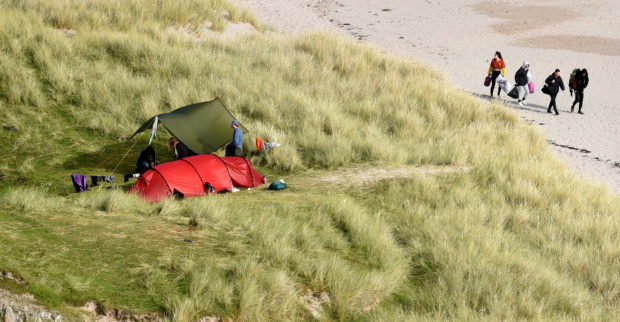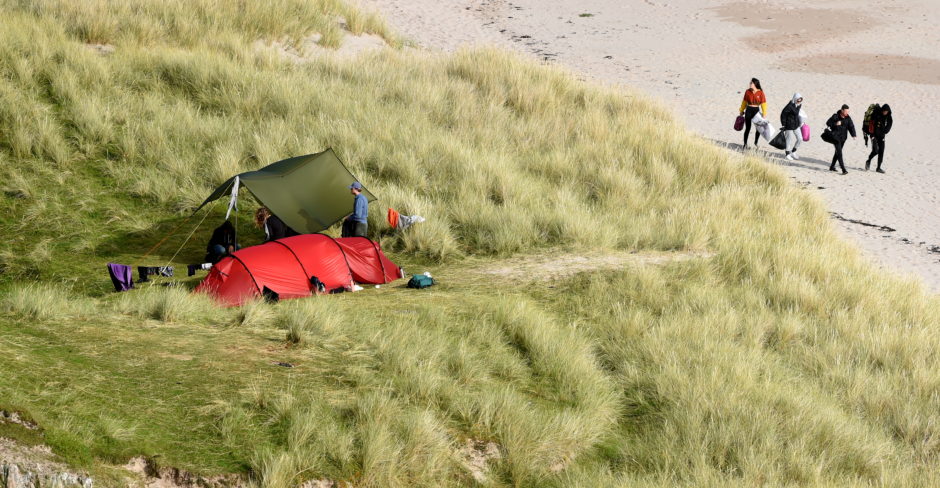 Scotland needs to spend tens of millions of pounds annually over many years to tackle problems caused by 'over-tourism', according to a new campaign group.
The Scottish Tourism Action Group (STAG) has called for a national programme of action to deal with issues caused by communities being "woefully underserved" in key areas including facilities for campervans, wild camping, car parking and public toilets.
The problems have been steadily building over years but have been exacerbated since the pandemic lockdown eased and more people have taken staycations.
STAG, which emerged from the action group Stop Trashing Scotland, has brought together communities across the country who have been appalled at the behaviour of some irresponsible visitors.
It says the lack of infrastructure for visitors is having "a massive environmental impact" across Scotland, including litter and human waste pollution, destruction of flora and fauna, irresponsible parking and damage from barbeques and campfires.
STAG has published a Green Paper for discussion and will send the final document, along with a national petition, to the Scottish Government this year.
It said while £87 million was spent in 2018-2019 in marketing Scottish tourism, just £6 million was made available via the Rural Tourism Infrastructure Fund to improve services.
The group said: "This paper therefore is a plea to central and local government to ensure that the predicted and sought-after growth in tourism does not overwhelm our smaller and rural communities, damaging our natural heritage and ultimately ruining rural Scotland as a sustainable place to live and as an attractive tourist destination."
It has put forward a series of recommendations to tackle the issues.
They include calls for "tens of millions" of pounds to be spent over 3-5 years, initially on infrastructure, an education campaign to combat the "current ignorance" of the Outdoor Access Code and a review of the Land Reform Act which may be used to tackle issues arising from increased visitor numbers.
This could include enacting local bylaws to protect the worst affected areas, to ban damaging activities such as camping and lighting fires in environmentally sensitive areas.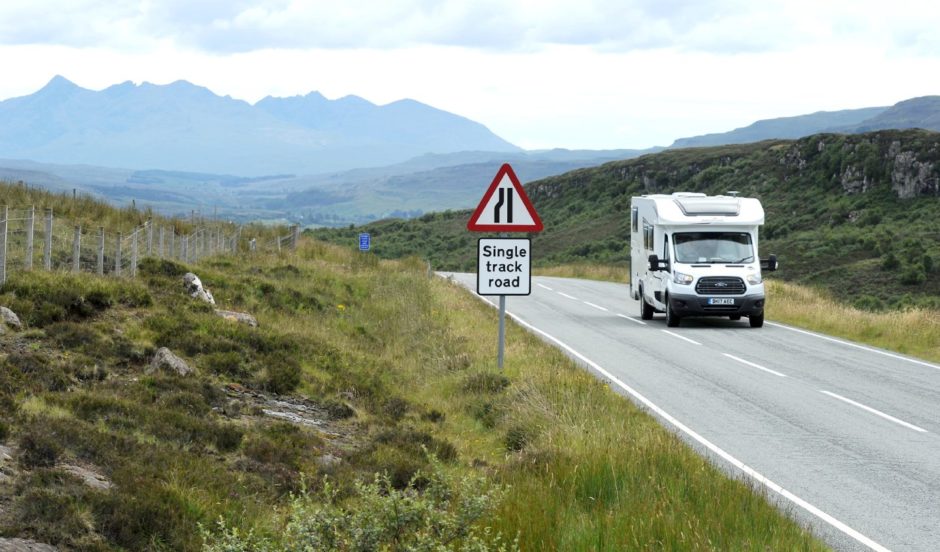 The report also recommends a review of policing policy regarding inappropriate parking and for motorhome and campervan certification, a wild camping licensing scheme, measures to control campfires and increased use of countryside rangers.
Arisaig businesswoman Anne Widdop, who set up STAG, said: "The situation was getting steadily worse every year but Covid-19 has just exacerbated it and it has put us over a tipping point.
"And if things don't change I think next year will just be as bad, or worse.
"There have been groups of people from across Scotland in touch with me that have been organising their own campaigns locally and we now need to join together to have a national campaign as we are fighting the same battle and getting nowhere.
"It definitely needs a structure in place to bring people together to have a louder voice.
"We need to look at the situation across Scotland and make sure there is an infrastructure there to accommodate the type of tourists we get.
"Obviously budget is going to be an issue and where that money comes from.
"That's for the politicians to sort, but it needs an acknowledgement at the outset that this is a big issue and needs to be properly funded."
Malcolm Roughead, chief executive of VisitScotland, said he welcomed the discussion with STAG.
He said responsible and sustainable tourism is at the core of the Scotland Outlook 2030 strategy, which was launched in March providing a vision of Scottish tourism over the next decade.
"We have adjusted our marketing strategy to reflect the challenges faced in specific areas, focusing our activity on encouraging visitors to visit a wider variety of destinations across the year," he said.
"The Rural Tourism Infrastructure Fund, created by the Scottish Government, has also been successful in providing additional funds to projects to address infrastructure issues in specific areas."
He said as part of the recovery from Covid-19, VisitScotland has been working with industry partners and communities to address localised concerns.
Mr Roughead added: "However, we understand that more work needs to be done.
"Responsible tourism is going to be even more important for Scotland in the future and this is a core part of our recovery plan."
A Scottish Government spokeswoman said it is aware of STAG's paper and is already working with a range of organisations to address issues.
"We have been clear that littering, anti-social behaviour and damage to our natural environment is completely unacceptable and we continue to engage with local authorities, Police Scotland and others to discuss possible solutions to anti-social camping," she said.
"A range of by-laws and fines can be and are being enforced in relation to these incidents, and it is for local agencies and councils to take decisions on the provision of local services and community safety activities in their area."
She said the government is working with SEPA and Zero Waste Scotland and will look at further measures to prevent and deter littering and illegal flytipping.
The spokeswoman added: "Many are enjoying the opportunity to get outdoors after so many weeks spent close to home – and are doing so responsibly – but clearly a small minority of people are spoiling this for others, endangering themselves, nearby communities and our environment.
"As always, everyone should be aware of the Scottish Outdoor Access Code and the important advice it gives on how to enjoy access rights responsibly."
Report sets out series of recommendations to tackle overtourism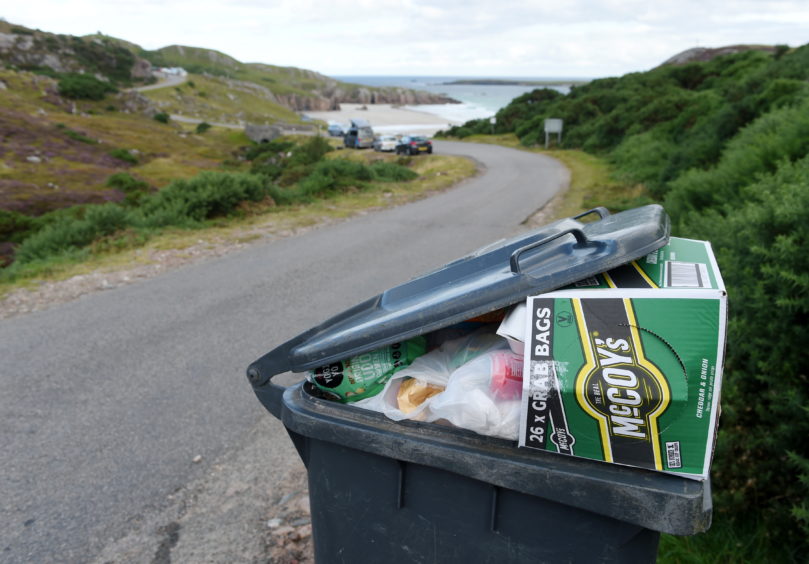 The report calls for a national tourism infrastructure programme over 3-5 years and funded to the tune of tens of millions of pounds annually to build "a cohesive national network of facilities".
It should include free trunk road aires – or stopover points – providing toilets, picnic facilities and waste collection, on main trunk roads.
And it says there should also be town and village aires on the outskirts of communities designed for self-sufficient campervans and providing chemical waste disposal and possibly electric hook up points.
These would be chargeable at £10-£15 per night, depending on facilities.
The report says rural aires should be provided on more minor roads in tourist destination areas and scenic routes.
These should cater for informal camping and use by motorhomes and include toilets, chemical waste disposal, picnic and firepits and barbeque facilities.
Parking and camping spaces should be pre-defined to control numbers and rhese would be free or chargeable at £10-£15 per night depending on facilities.
The report says public toilets and waste collection facilities need to be reviewed and decisions to close toilets should be reversed in many cases, while communities should have easier access to the Rural Tourism Infrastructure Fund.
A marketing campaign is recommended to help people act responsibly in line with the Outdoor Access Code and help reduce antisocial behaviour.
While wild camping is a legal activity, irresponsible behaviour in breach of the Access Code in some areas can be deemed a criminal act.
It is suggested wild camping must keep at least 250 metres from buildings, roads or historic structures.
The report also recommends the use of bylaws to restrict access rights to certain areas and protect sensitive sites by prohibiting wild camping and fires in specific "over-touristed" areas.
Other proposals include certification system for motorhomes and campervans so vehicles that are not self-contained would be restricted to sites with toilet facilities and a permit system for wild campers who would have to complete a short, on-line course on their responsibilities
It also says campfires should only be allowed in certain areas and calls for a national system of countryside rangers to manage sites.
Rangers would be employed by local communities and duties would cover parking, use of the aires and wild camping as well as engagement with tourists, litter picking, path construction and maintenance and have the power to issue penalty notices in the same way as traffic wardens
Finally, it also calls for the creation of a real time tourist hot spot map of Scotland to help visitors avoid crowded areas.
Anger, despair and frustration as campers overwhelm Highland village 'like Vikings'
'Dirty camping' affecting many parts of the country
Many parts of Scotland have reported issues with "dirty camping" in recent weeks.
Typical of the complaints from residents are those from a Ms Widdop near her home in Arisaig.
On the first weekend that lockdown was lifted, there were 42 tents spotted on the beach at Morar and more than 56 were counted another weekend.
"The devastation it causes is pretty horrific. Trees being chopped down, fire pits everywhere, human excrement everywhere, it was a disgusting mess with bins piled high with rubbish. There were signs saying 'leave only footprints' and beside them is a mountain of rubbish.
"It's the volume of people coming to such a small place.
"People have parked on the single track road to the beaches. The local bus couldn't get past, the ambulance had difficulty, so access is a real problem. Most of the local just completely avoid going there."
Historic Assynt looks after the scheduled monuments Calda House and Ardvreck Castle, where barriers have been erected and a ditch dug to thwart campers.
However, the group said tents have been pitched under the walls of Calda House and on top of the castle vault. Chairman David McBain said this year has been "horrendous". He said people have used the walls of the building as a toilet then picked up stones from a 500-year-old ruin to cover it.
Other areas affected include Balmoral, Angus, Glen Etive, Glen Coe, Glenmore and other parts of the Cairngorms National Park, and communities around the North Coast 500 route and Loch Lomond.
Residents in Durness on the far north coast have also reported as many as 130 campers a night setting up tents on two patches of land in the village, often leaving behind fire pits, human waste and piles of litter in fields and on beaches.