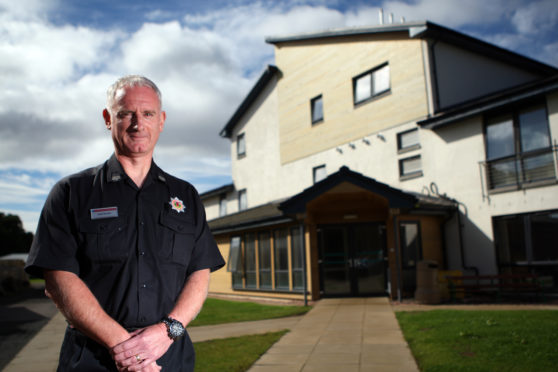 Aberdeenshire fire chiefs say staff numbers are holding up well despite having to suspend recruitment and training during lockdown.
There are at least half-a-dozen retained posts sitting vacant in the north-east, including five at the Turriff station alone.
However, bosses believe they have been fortunate that the global pandemic hasn't drastically threatened the workforce, despite a higher turnover of retained staff of late.
Martin Tait, the Scottish Fire and Rescue Service's area commander for Aberdeenshire and Moray, told the latest Aberdeenshire Council communities committee meeting that local bosses had worked "tirelessly" to provide cover.
He said: "The retained duty system has proved challenging with turnover of staff due to changing personal circumstances and retirements.
"But local managers have worked tirelessly to ensure that appliance availability is maintained."
Mr Tait said hundreds of Scottish firefighters were forced to self-isolate during the pandemic's peak in May, but the north-east contingent remained able to man all its stations and appliances.
Mr Tait said: "From a local perspective, we have been very fortunate that we are maintaining competence levels and maintaining appliance availability.
"Our appliance availability during lockdown and furlough was probably enhanced because so many people were working from home or furloughed.
"As you're aware, we have one whole-time station that covers Aberdeenshire but the rest are all retained.
"We had really healthy availability but we do have contingency plans in place for that and we've a number of staff who are non-operational just now but can be drawn back in if needs be."
The Scottish Fire and Rescue Service has a number of vacant firefighter posts in the north-east, though, including five in Turriff and at least two more in Banff and Aberchirder.
Mr Tait added: "At the start of lockdown we did suspend duty training nights for our retained personnel for a period of time.
"That was brought back in time but with additional guidance provided to those crews.
"There has been a delay but we are aiming to recruit retained staff later this year and we're going out to do a whole-time recruitment campaign which kicks off next month."
Station commander Kevin Coutts gave similar assurances after telling the latest Banff and Buchan area committee meeting that members of the Aberdeenshire staff had tested positive.
He added: "We do have robust systems in place at all our stations to ensure that if someone does test positive it will not have a knock-on effect to make other individually at the station have to self-isolate.
"As a result, the impact on our emergency response capability is minimal.
"We have had no issues at all in the Aberdeenshire area where we have had an appliance been removed from service, or indeed a watch in the home town stations that have had to go off-duty as a result of Covid issues."