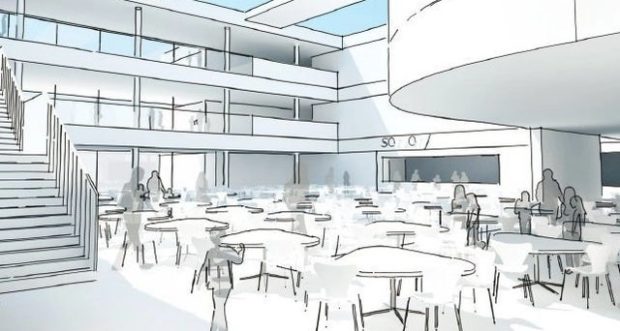 The go-ahead is expected to be given for a new £71million community campus in Peterhead, to be built by 2025.
Aberdeenshire Council prioritised the Prince Street school for replacement in 2018 and selected the site at Kinmundy to host the facility in June 2019.
Members of the Buchan area committee are expected to give the proposals the thumbs-up on Tuesday, but will first discuss the results of the public consultation study.
If approved the 1,400-pupil intergenerational campus would provide services for those aged three to 18 as well as the potential to include care homes and other facilities.
An eight-week public consultation took place last October and its findings have been shared in a report by Aberdeenshire Council's director of education and children's services Lawrence Findlay.
He says the majority of respondents are in favour of the new school, but the loss of lunchtime trade outwith the town centre and an increase in traffic to one site were among the issues flagged up for councillors to consider next week.
The report suggests the campus could instead host new businesses with hopes that "the site will develop and more retail points will be created in the future, in order to meet the needs of the rising population residing in the area and the surrounding neighbourhood".
Preparations are also underway to start consultations about merging Dales Park and Meethill Schools, and also relocating Anna Ritchie Special School.
"Anna Ritchie School would retain its identity in a purpose-built area of the campus, should this be approved," the report adds. "A standalone nursery will also be built on the same site albeit as a separate project with expected completion in 2021.
"The Kinmundy site is a part of a wider approach and it is factored in the Peterhead Masterplan."
Other proposed facilities, such as care homes, will form separate projects with
their own community engagement and consultation as appropriate.
There would continue to be a number of pitches and public spaces at Kinmundy available for use by sports clubs, families and dog walkers.
The council, put aside £71m for the project in February 2018 which will be part-funded from the Scottish Government's £1 billion spending plan for new schools across Scotland.
The building of the new Peterhead Community Campus is estimated to be completed in 2025, with works beginning in 2023.
The proposals will be discussed by Aberdeenshire Council's Buchan area committee on Tuesday and a recording of the meeting, held via video chat, will be made available to the public shortly after.