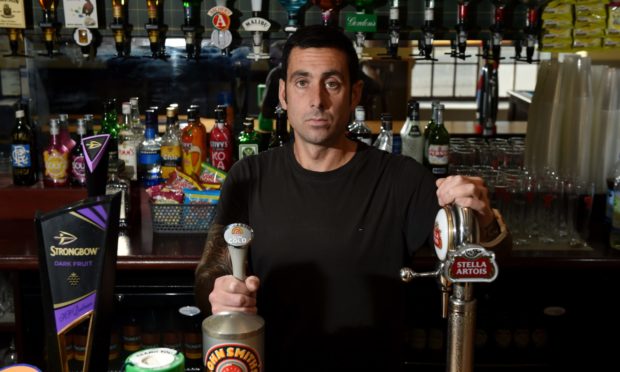 A north-east pub boss has hit out at an expectation on hospitality bosses to enforce new coronavirus rules – claiming staff aren't the "Covid-19 police".
John Anderson, of the Staging Post in Bucksburn, wants the public to take personal responsibility for complying with new regulations designed to keep cafes, bars and restaurants open.
Rules limiting indoor and outdoor gatherings to six people from only two households came into force early yesterday morning.
And while customers inside bars, cafes and restaurants were previously exempt from donning face coverings, they must now be worn whenever they are walking about the premises.
Mr Anderson said it was a "very, very disappointing" blow.
Addressing his customers on Facebook, he said: "I'm not the Covid-19 police and neither are my staff, so you take responsibility.
"I'm not going to come round and start questioning people about this, I don't think it's my job.
"Face coverings are now mandatory but again I'm not the face covering police.
"If you come in and you aren't wearing a face covering, I'm working under the assumption you have an underlying medical condition."
The Staging Post was linked to the cluster of coronavirus cases which brought Aberdeen into a three-week local lockdown last month, after a punter visited having been at a city centre nightspot.
Not yet open a month since, Mr Anderson told The P&J : "People know the rules and need to take responsibility for themselves or we all know there will be another lockdown.
"We were one of the bars demonised – crucified – after the second lockdown but it's the people that aren't behaving themselves.
"We're taking people's temperatures without a medical background, trying to distinguish different households – how are we supposed to know?
"People should know the rules and take responsibility themselves rather than the onus only being on bars."
Meanwhile, Mor-Rioghain Group, which owns three premises in Inverness and one in Aberdeen, has revealed 30% of customer reservations have been cancelled since the rule change.
Turnover dropped 15% in a week at The Gellions, Upstairs Bar and Monty's Bar in the Highland capital and The Mains Of Scotstown Inn in Bridge Of Don, prompting warnings of the need for better support for the industry.
Managing director Gavin Stevenson said: "Our worst affected business is currently limited to around 50 customers versus nearly 200 in normal times, and even our venue with the best layout can only fit around 50% of previous customer numbers.
"Obviously a business that can only accommodate half their previous customer numbers will only be able to generate half the revenue, and that has a real impact on viability and employment.
"The new six people from two households rule just makes it even harder."
Mr Stevenson, who is a founding member of new trade body the Scottish Hospitality Group, added: "We've invested heavily in staff training and empowered our teams to strictly comply with the venue's Covid-19-safe policies.
"We would however call on the Scottish Government to engage with our sector with urgency, to find better ways of working that both allows for Covid-19 safety, and also preserves the viability of the many small businesses currently facing real difficulty."
First Minister Nicola Sturgeon has warned entire industries could be forced back into lockdown if the country does not get a grip of the virus.
At the daily briefing yesterday, she said: "I don't for a second think that it's easy for restaurants and pubs to do this; these limits are not easy for anyone.
"But I know that most, if not all, working in the hospitality sector know it's in their interests to make sure these rules are complied with because this is about trying to make sure we can retain some normality in life while keeping the virus under control.
"If we end up unable to do that unfortunately we would potentially face – and I hope we don't face this prospect of– sectors of our economy having to close again instead of operating under the kind of restrictions we are seeing."