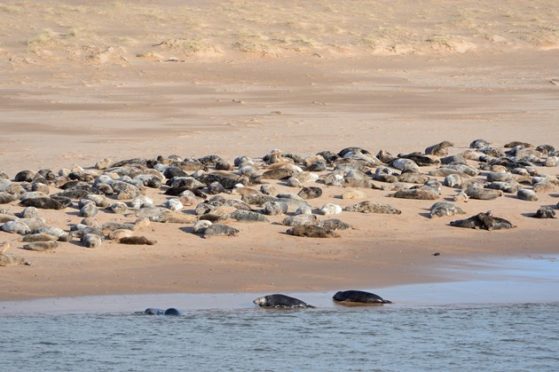 Volunteers have warned "things are getting out of hand" at a north-east nature reserve where there has been a worrying surge in seal disturbances.
Ythan Seal Watch members say they have witnessed more serious incidents in the last month at the Ythan Estuary than in each of the previous two years.
The group claims the problems experienced by the seal population – which often stampedes in response to people getting too close to their haul-out sites  –  have been exacerbated by the actions of NatureScot.
NatureScot is the national nature agency with overall responsibility for the Forvie National Nature Reserve near Newburgh.
It has removed signage warning visitors to keep their distance and fencing that separated the creatures from mammals from members of the public.
'Reckless' visitors send terrified seals stampeding into water at Aberdeenshire reserve
Lee Watson from Ythan Seal Watch said: "We have had many concerns raised with us about the sharp rise in suspected harassment incidents on the seal haul-out since the ternary fence was removed at the end of the bird breeding season in late August.
"We have had more serious disturbance incidents in one month than in the last two years.
"It's getting out of hand down there."
During the last few weeks, the group has received several pieces of footage of terrified seals stampeding into the water after "reckless visitors" trespassed on the off-limits colony.
The seal haul-out at the mouth of the Ythan Estuary has enjoyed special protection under the Marine Scotland Act 2010 since 2017 and it is a criminal offence to disturb them.
Ythan Seal Watch has repeatedly appealed for proper signage to be installed on the nature reserve to advise people against disturbing the seals and the dangers associated with approaching one of the mammals.
Mr Watson added: "Although we did support the removal of the fence as it encouraged a false sense of security and a justification for disturbing the seals, we requested that visitors were advised of the site being designated and the legal implications of harassing the seals – that being a fine of up to £5000 or six months in prison.
"The current disturbance levels to the seals are unsustainable but what has happened to the seals this past month will continue to happen without action."
A spokeswoman for NatureScot said: "Our experience is that while enforcement on-site signage is rarely effective, visitors respond positively to signs that encourage better understanding of local wildlife.
"We have been working closely with the local access forum and police and will continue to do so wherever possible, as the best way forward in conserving and protecting local nature."