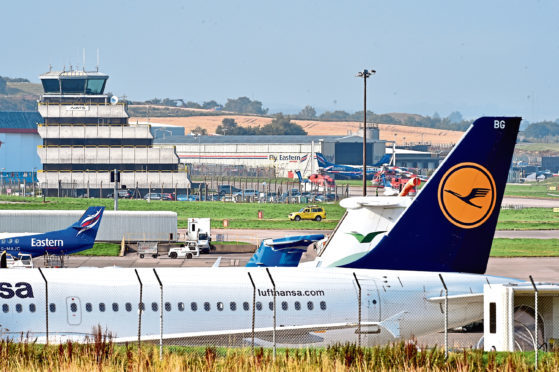 A Scottish trade union has expressed fears over a "second wave" of civil aviation job losses at companies operating out of Aberdeen International Airport, as the issue is set to be debated at Holyrood.
Unite union warned that the sector is on the "brink of collapse" without Scottish and UK Government support.
Around 100 jobs are currently under threat at airlines and support firms working out of Aberdeen Airport as a number of redundancy consultations continue.
More than 1,000 jobs are also at risk at Edinburgh Airport, while Glasgow Airport faces around 600 redundancies.
A recent Fraser of Allander report, conducted on behalf of Unite, estimated 2,330 direct and indirect job losses in civil aviation with an overall economic loss of around £140 million to the Scottish economy.
Workers at Aberdeen Airport have faced growing uncertainty over their jobs after aviation services firm Swissport warned in June that more than half of its UK and Irish roles may be axed.
However, Unite also warned that the civil aviation jobs are facing a "cliff edge" with the end of the UK Government Job Retention scheme in October.
A debate secured by Scottish Labour's Colin Smyth MSP calls on the Scottish Government to work with the aviation sector and trade unions to agree on a specific package of support for the industry.
Unite said the support must include protections for jobs and working conditions.
Pat Rafferty, Unite Scottish Secretary, said: "Unite has been warning from the outset of this Covid-19 pandemic that the entire civil aviation sector is on the brink of collapse without Scottish and UK Government support.
"However, any financial support and relief must be based on the conditionality that jobs, terms and conditions are protected instead of public money being used to subsidise bad employers."
"The debate in the Scottish Parliament is welcome but we need coordinated action now or we fear that the sector will take years to recover with thousands of jobs being lost in the process if measures are not swiftly enacted."
A spokesperson for AGS Airports, which owns Aberdeen and Glasgow airports, said:
"We're experiencing the worst downturn in aviation history which has had a significant impact on airports throughout the UK, including AGS Airports.
"Tens of thousands of aviation jobs have been lost and this will only get worse without government support.
"This crisis has affected every aspect of our industry, with airlines, ground handling companies, retailers and other support services all making redundancies.
"We are currently in discussions with the trade unions to identify further potential cost saving measures with a view to minimising job losses as far as possible."