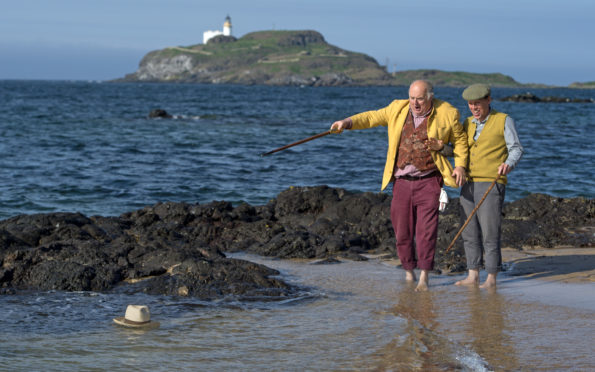 Scotland's coasts and waters are being celebrated in this autumn's Scottish International Storytelling Festival with events spanning as far north as Aberdeen and Orkney.
It is the first of Edinburgh's dozen annual festivals planning to host live events and is promising to bring with it old Scottish oral traditions and a wide array of culture.
The two-week-long programme of 93 events is a mix between online and in-person sessions expanding across Scotland including some in Findhorn, Orkney and Aberdeen.
Fourty-three of these will be hosted face-to-face come October, subject to the Scottish Government's ever-changing coronavirus lockdown guidelines.
The theme for this year's festival, which began back in 1989, is In The Flow.
More than 100 performers from across the globe will take part in the celebrations of "a nation shaped by the sea".
Organisers say the events shine a light on lost stories of Scottish and international culture, give a new perspective on historical experiences and captivate, entertain and educate audiences on everything from Scottish colonial history to our connection to the natural world.
Scottish International Storytelling festival director Donald Smith said: "Stories and songs are vital for human survival. They carry our emotions, memories and values. They bind us together as families, communities and a nation, especially through tough times.
"The Scottish International Storytelling Festival will continue to channel that flow with an increased focus on well-being in the year of Covid-19."
One of the festival's main offerings, entitled Voyage, is a series of new work developed by storytellers and musicians for VisitScotland's Year of Coasts and Waters.
Premiered as pre-recorded studio broadcasts to be streamed online, the collection of fourteen performances shares tales of real and imaginary voyages that have connected Scotland to other coastal countries, near and far.
Representing the north and north-east in the collections is Donald Smith's reimaging of the iconic travelogue Johnson and Boswell's Tour to the Hebrides featuring leading actors Andy Cannon and Christopher Craig.
Meanwhile music collaborations see David Francis and Hamish Napier celebrate the River Spey in Speyside to Fireside, and in Deiseal/ Sunwise,  Mike Vass joins Ian Stephen for a journey to St Kilda,  and ancient instrument musician John Kenny collaborates with sister Marion on The Voyage of St Brendan.
Running alongside the Voyage series, the festival will also join with the The Orkney Storytelling Festival and The Wild Goose Festival in Dumfries and Galloway in celebrating the country's coastline.
Small-scale indoor events will take place at Universal Hall Findhorn, the Scottish Crannog Centre near Aberfeldy and Abbotsford House in the Borders.
Further outdoor in-person events are planned in Edinburgh and Glasgow and as ever the festival closes with a celebration of the Feast of Samhuinn, meaning the 2020 Scottish International Storytelling Festival is out to find local ghost stories and to encourage people in Scotland to discover those in their own area.
The festival runs from Saturday, October 17 to Saturday, October 31, and countries represented include USA, Colombia, Canada, Italy, Spain, England, Kenya, Northern Ireland, Holland, Iran, Sierra Leone and Iceland.
Click here for a full list of events.