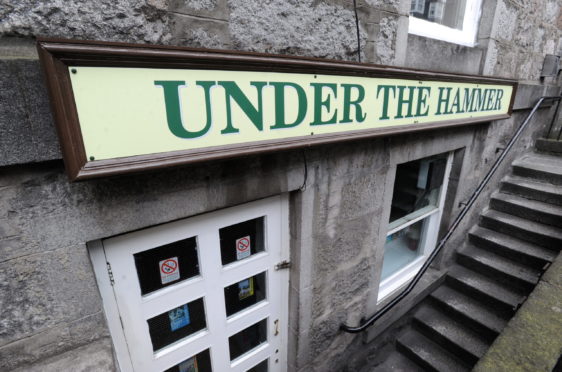 A popular Aberdeen pub has announced it has closed its doors for good.
Under the Hammer, on North Silver Street, had been closed since lockdown was announced in March.
It did not reopen along with other pubs on July 15, with the gates remaining padlocked.
Owner Colin Watson said it would be be impossible for the tiny bar to follow the social distancing guidelines while having any "realistic hope of viability".
Now a post on the pub's Facebook page has confirmed the popular venue – named in reference to its close proximity to John Milne Auctioneers, has served its last pint.
Thanking staff past and present, Mr Watson's post read: "Holed below the water line and unable to remain afloat".
https://www.facebook.com/underthehammerabdn/posts/415347379857411
Below the post, many former regulars paid tribute to the beloved venue.
One said: "All the best Colin, I have not been in much of late, but I will miss the place after all these years."
Another added: "Thank you for your service to Aberdeen throughout the years, Colin – I'm so very sad to hear this".
Mr Watson said he was "deeply moved by the flood of comments on Facebook".
Adrian Watson, chief executive of Aberdeen Inspired, said: "It is sad to see a popular venue like Under The Hammer close and our thoughts are with all staff affected by this.
"This news highlights the hugely difficult trading environment in the city centre, with businesses regularly having to adapt to consistently changing circumstances.
"For a number of smaller venues like Under The Hammer, operating with the required social distancing measures is very challenging due to space constraints. Such an untimely closure re-emphasises the need for government to do all that it can for our hospitality sector.
"We encourage the public to continue to support our city centre businesses, who are all working hard to create a very safe and welcoming environment, at a time when it is most needed."