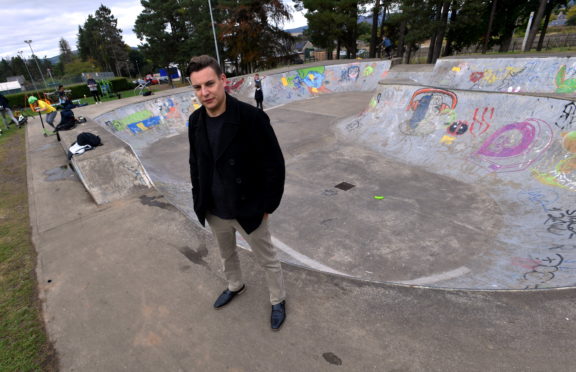 Teenagers in an Aberdeenshire town have come up with solutions to issues of vandalism, antisocial behaviour and littering at a local skate park after being "unfairly tarred with the same brush" as the youngsters causing the problems.
The Alford skate and playpark, located next to the community's ski centre, has in recent weeks suffered from intentional damage to structures, fires in the woods nearby and bins overflowing with rubbish.
Signs of drug use have also been reported.
As a result, certain residents in the community took to social media to pin the blame on youngsters causing havoc.
But in response, a number of young people have now come forward with their own ideas to help make the park a more welcoming place.
The teenagers got in touch with Huntly, Strathbogie and Howe of Alford councillor Robbie Withey with their proposals to make the area a better place for everyone, and Mr Withey yesterday discussed their ideas with the police and the council.
He said: "There have been issues with littering – and the council has finally emptied the bins – and I've in my meetings with the police and the council asked for bigger, and better-designed bins so they don't fill up as quick and litter doesn't blow out of them.
"And this was an idea that was brought to me by one of the young people that frequently uses the skate park.
"Some of the older teens have even brought down their own wheelie bin, and have been picking up after themselves, and other people as well.
"There's an issue with the minority of people, but the overwhelming majority of young people who use the park are good people.
"It has been very sad to see so many fingers pointing squarely at the younger generation on social media, and seeing them all unfairly tarred with the same brush.
"It's made me really proud, however, to see so many younger people come forward and engage with efforts to improve their community.
"Going forward, I want to see them taking on more of a direct role, perhaps with the creation of a "Friends of the Skatepark" kind of group, to make them feel a sense of ownership, rather than it just be seen as a council facility they use.
"We have some incredible young people in Alford and they deserve our respect."
A spokesman for Aberdeenshire Council said: "We are committed to working alongside partners on issues relating to antisocial behaviour, and will continue to look at ways to address this situation.
"We would encourage young people to consider the impact of thoughtless vandalism on their communities, and parents to ensure this is discussed with their children.
"Alford Community Campus pupils and staff are playing a lead role in the development of a community litter strategy."