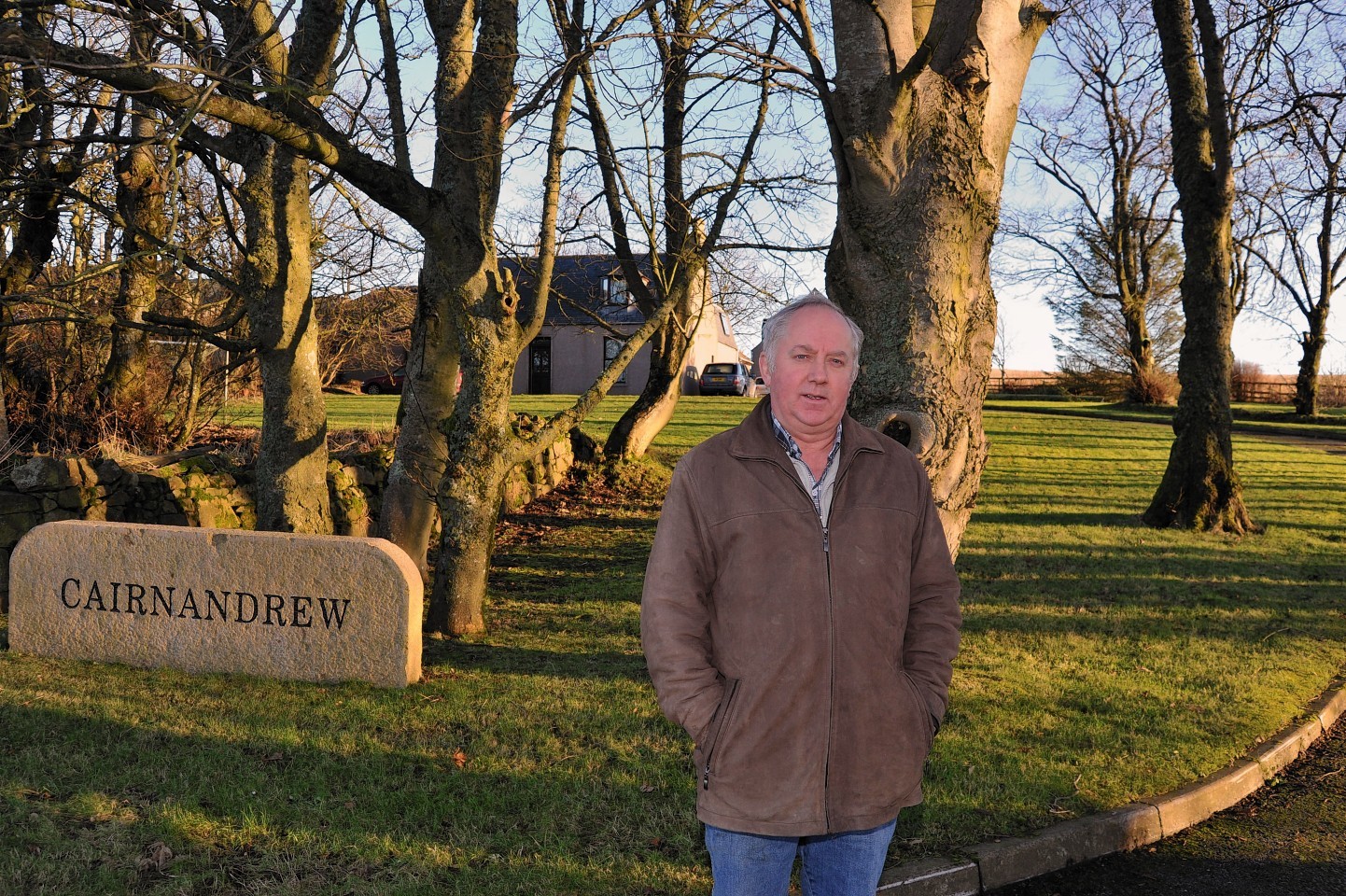 A farmer who angered north-east residents with plans to build a travellers' park on their doorstep has sparked a new row with proposals for a windfarm.
Last night Bob Ritchie insisted his latest scheme was a "noble" gesture, and blasted "do-gooders" for trying to prevent him from helping the community.
The 58-year-old stunned locals when he unveiled his original bid for a dedicated halting site for gypsy convoys at Linganbo, on the edge of Banff.
He tabled his plan after he was blocked from building his dream retirement home at the same location – a decision he blamed on objections from residents.
In June last year, Mr Ritchie withdrew his traveller park proposal after about 40 complaints from people living nearby. A follow-up attempt to turn the site into a holiday park was also rejected.
Now he has lodged new proposals for a 150ft turbine at the same site. He said it would be part of a larger four-mast development on farmland to the south of Banff, between King Edward and Longmanhill.
The bid has come up against a fresh backlash from residents, who have written to Aberdeenshire Council calling for the plan to be thrown out.
They believe the mast could be a distraction to motorists using the busy A947 road – a notorious accident blackspot.
Concern has also been raised about the safety of birds, including whooper swans, geese and oyster catchers, which regularly fly over Linganbo.
Last night, Mr Ritchie insisted the development would be an asset to the area with the potential to generate about £750,000 for the community over its 25-year lifespan.
He said: "I'm getting ready to retire from farming and this is my way of giving something back to the community.
"Once these turbines are up and running, they would make around £30,000 each year, which would be divided between King Edward school, the village hall and the church."
He added: "It's just a shame that we have these do-gooders who try to block what I'm doing at every turn.
"I've been trying to redevelop this site for years now, and its always the same story.
"I just want to do something that will benefit the area after I'm retired. I think its a noble thing to do.
"Nobody seems to be doing a lot for this area just now and that's why I want to do something that could really make a difference."
The single mast scheme has already won the support of the Ministry of Defence and air traffic controllers at Dyce.
Aberdeenshire Council planners have received 15 objections to the proposed development.
In a letter shared and signed by several residents, it is claimed shadow flicker and noise from the turbine could affect nine nearby properties.
Objectors add: "The proposed turbines would become a further visual distraction on a stretch of road (A947) where there is a staggered cross roads, bus stop and access to residential properties."
A previous application by Mr Ritchie to install two turbines at the site was rejected in March last year, after similar objections were raised.
Council officers said the masts could have an adverse impact on local homes.
Residents had earlier stressed they had no vendetta against Mr Ritchie, but were simply unhappy about his proposals for the plot.
A planning application for the next three turbines, at Keilhill and Craigandrew, is expected to be tabled in the coming weeks.