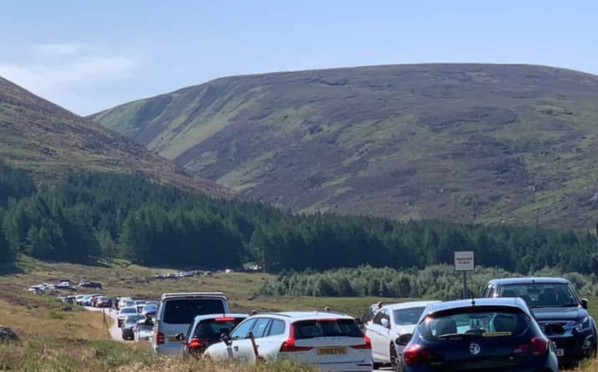 Bus routes and better cycling opportunities between communities and Cairngorms beauty spots like Loch Muick, the Linn of Dee and Loch Morlich could help protect infrastructure, cut emissions and boost local economies, a national park chief has argued.
Grant Moir, the chief executive officer of the Cairngorms National Park Authority (CNPA) has proposed "hub and spokes" models between towns and villages like Ballater, Braemar and Aviemore and nearby destinations for enjoying the great outdoors.
Mr Moir said that the past summer has been "unlike any before as we dealt with the fallout from the Covid-19 pandemic", as many car parks across the national park became overwhelmed with demand from drivers eager to get out and about and explore some of Scotland's most beautiful landscapes.
A number of temporary solutions were implemented, such as one-in, one-out systems at the entrances to certain glens and overflow areas for motorists to leave their vehicles.
But looking towards the future for a more permanent fix for infrastructure troubles, Mr Moir has proposed a model similar to that in use in national parks around the world, such as the Yosemite Valley shuttle system in America where drivers can leave their cars and take public transport out to more remote nature trails.
Mr Moir said: "What we've typically done is get people to jump in their cars and drive down a long single-track road wherever it is they want to go, but sometimes the car parks are really struggling.
"At Linn of Dee for example this summer, we have car parking spaces for 40 to 50 cars, and we have had up to 100 on some days.
"Maybe we should do something different where people can come to villages and towns, and then they have access to public transport or active travel options to get out to our beauty spots.
"It's done in quite a lot of other countries, such as the Dolomites in Italy and Yosemite in America, where people drive to certain car parks and you can get a bus route all around the Yosemite Valley."
The chief executive also argued the model would benefit local economies by having more visitors "hopefully spend more time and money in villages".
He added: "We've done things very similarly for a very long time, so perhaps it's now time to do something a bit different that benefits visitors and local businesses."