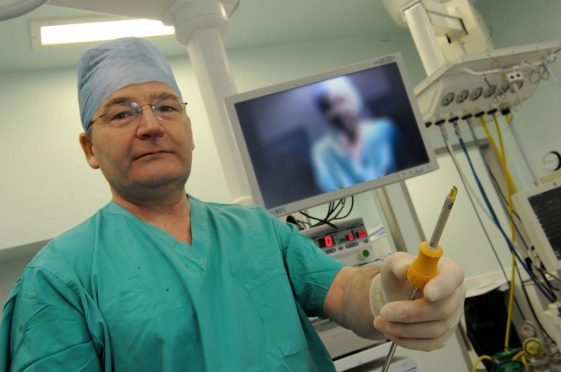 The Queen's former surgeon in Scotland has received a six-figure payout after successfully taking NHS Grampian to an employment tribunal for unfair dismissal.
Professor Zygmunt Krukowski, who served in the role of Queen's surgeon for 12 years, resigned in May 2016 having been a consultant at Aberdeen Royal Infirmary (ARI) for more than 25 years.
The £150,000-per-year surgeon sued NHS Grampian for constructive unfair dismissal, claiming that the health board tried to discredit him after he raised concerns about patient safety in 2014.
In a 120-page decision document, employment judge Alexander Meiklejohn and panel members Stuart Gray and Mary Williams-Edgar unanimously agreed with Prof Krukowski's claims for unfair constructive dismissal and breach of contract against NHS Grampian.
The 70-year old said in a statement that the cash sum he received "represents the maximum award for unfair constructive dismissal and breach of contract" and ends his longstanding battle with NHS Grampian, but did not reveal the exact sum.
He added: "NHS Grampian say they will learn lessons from this case, I certainly have.
"This will require much earlier collaborative identification and resolution of problems.
"I have no expectation of an apology from NHS Grampian who forced me to leave my positions as consultant surgeon, professor of clinical surgery in the University of Aberdeen and surgeon to the Queen in Scotland.
"The problems facing NHS Grampian are huge and they need to concentrate on that now."
Following his success in the case, NHS Grampian obtained Scottish Government approval to pay Prof Krukowski a six-figure sum, less appropriate deductions for tax.
Prof Krukowski flagged patient safety concerns to senior management in 2014.
The senior medic's revelations led to turmoil at the health board, with increased government scrutiny, two critical reports of Aberdeen's hospitals and the eventual departure of the several high-profile figures.
A probe by the Royal College of Surgeons of England (RCSE) subsequently uncovered a breakdown in working relationships within Aberdeen Royal Infirmary's general surgical team.
The royal physician was, however, suspended from his role over bullying allegations, along with seven other senior doctors – but while cleared of any wrongdoing by the General Medical Council, he resigned shortly afterwards.
Terry O'Kelly, one of Prof Krukowski's friends and former colleagues, said he had "become an intimidating character" for some consultants who had been appointed for less time and doctors in training.
Mr O'Kelly claimed that there had been a culture shift within the medical sector in recent years, leading to clashes between staff with different personality types.
A panel heard that Prof Krukowski felt he had "no option" but to resign, for the sake of his own health and wellbeing.
During the tribunal, NHS Grampian's counsel, Ian Truscott QC, read out passages from Professor Krukowski's witness statement, which included references to his resignation letter.
In the letter, Mr Krukowski wrote that he had resigned after allegations made about his conduct, calling them "the last straw".
He also cited the board's "continued failing" to allow him to access documents before one of his hearings.
During evidence, the tribunal had to be paused as the senior medic broke down and wept while re-visiting the events which led to his resignation in 2016.
Judge Meilklejohn concluded: "We believed the recollection of this was genuinely distressing and his reaction spoke more eloquently than words could convey how he had felt at that time."
Professor Krukowski's legal representative, Russell Bradley, described the health board's investigation into the complaints raised against him as "incompetent" and questioned its impartiality.
A spokeswoman for NHS Grampian said: "We remain disappointed with the judgement that Prof Krukowski's decision to resign amounted to a constructive dismissal, despite the tribunal finding the allegations made against him by his colleagues were serious, required investigation and justified his suspension.
"This judgement meant a further hearing would have been required to assess what compensation the claimant was entitled to receive. However, since the costs of a multi-week hearing on compensation would likely exceed any award made and also impact on many of our colleagues and former colleagues, we have agreed to settle the case for a capped net five-figure sum.
"It should be noted the tribunal rejected claims of dismissal or poor treatment because of health and safety disclosures made. It also dismissed a claim of race discrimination.
"In light of the importance of patient safety to NHS Grampian, the tribunal's finding that the patient safety concerns raised were properly considered and investigated was particularly welcome.
"The procedures and processes commented on in the tribunal's judgement remain under review by NHS Grampian and, as some are national procedures dating from 1990, also by the Scottish Government."