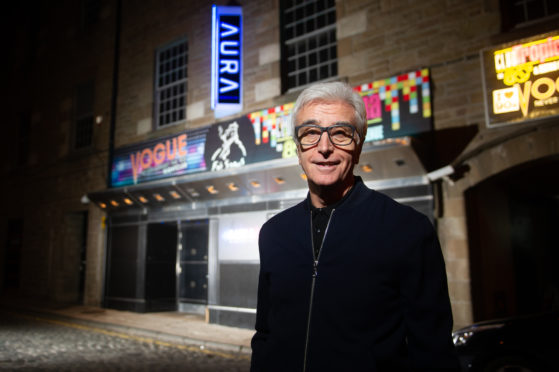 A Granite City nightclub owner hopes to help shed Aberdeen's "virus city" reputation with the launch of a new bar-tracker mobile phone app.
Tony Cochrane, owner of Club Tropicana, claims his new "world first" track and trace technology will stop city centre revellers hitting numerous venues and increase safety within the night-time economy.
The new 4Entry app, which would only allow people into a limited number of venues over a 24 hour period, is due to be trialled today at a handful of Granite City bars.
Mr Cochrane says he hopes the new technology will help show that Aberdeen is the "most proactive city in Scotland" when it comes to halting the spread of Covid-19.
He said: "What this will do is track and trace you around city venues.
"If Covid-19 spread in Aberdeen at any point in the future, the technology would give the NHS an instant record of where you have been and who you were near.
"The First Minister keeps referring to the 'bar crawls in Aberdeen' – what this app would do is put a limit on it."
The app gives every user a unique QR code, which tracks them as they arrive at and then leave a venue and assigns available tables to customers as they enter.
It then recognises when the user has entered a second or third venue, but would prohibit them entering another nightspot.
Mr Cochrane said he wants the new app to change the way people view Aberdeen after the outbreak of the Covid-19 virus at the Hawthorn Bar in August, which eventually impacted more than 260 people.
He said: "Some still think of Aberdeen as the virus city. What we're trying to show is that we are being proactive and hopefully stop people attacking the city.
"No other city in the world is doing this. It's unique to Aberdeen, but it has to be done city-wide"
It comes as certain city centre pubs posted messages appearing to promote binge drinking and encouraging revellers to make the most of current late opening hours.
The chief executive of Aberdeen Inspired, Adrian Watson, called on premises to act "maturely and responsibly".
He added: "I know this situation is difficult for some venues but we need to get the message out that this is a safe and welcoming city."
On the new app launch, Mr Watson said: "It's an opportunity for the hospitality sector to have a bit more regulation.
"If it gives people a bit of peace of mind and leads to a safer trading environment then we endorse that."