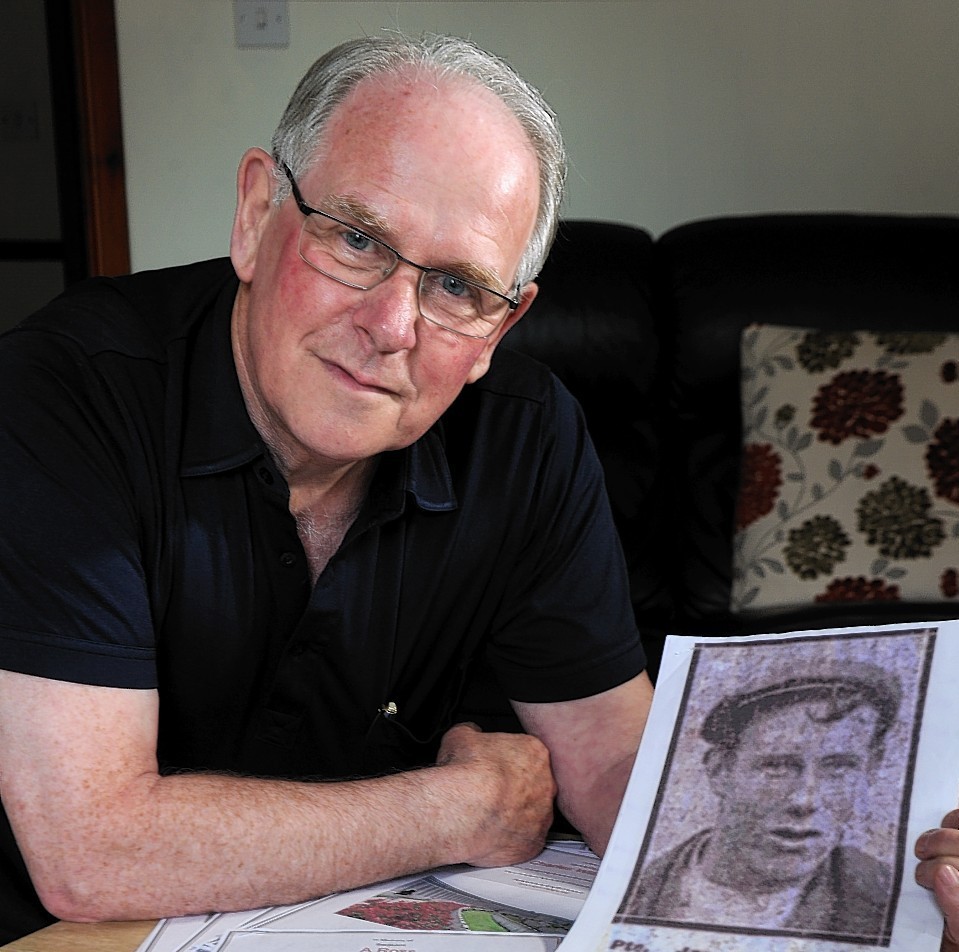 A north-east man is seeking descendants of his grandfather's fallen comrades – all of whom died side-by-side in a single day of fighting in the Great War.
Ken Mackie, 73, of Torphins, spent most of his life unaware of where his grandfather James McGhee was buried.
The Scottish soldier, originally from Crimond and a private in the Gordon Highlander's 9th battalion, was killed along with 12 other soldiers from the historic north-east regiment on August 22, 1917, during the Battle of Passchendaele.
Now, thanks to research and help from his nephew, Ian Cruickshank, Mr Mackie has learned that his grandfather lies in a mass grave at Aeroplane Cemetery, near Ypres, Belgium.
He was led to the site by a headstone for the regiment's sergeant, A. Ross, who laid to rest alongside the men.
Mr Mackie, who is planning another visit to the cemetery to coincide with this summer's centenary of the outbreak of World War One, said: "It was through him we were able to assess where my grandfather was buried.
"It was a mass burial and there was 13 of them."
Mr Mackie has made contact with a relative of Sergeant Ross, a great-niece from Turriff, and is now appealing for descendants of the other fallen soldiers to come forward and join him on a pilgrimage to their shared resting place on August 22 this year.
Aeroplane Cemetery hosts the graves of 1,105 Commonwealth servicemen. Of these, 636 remain unidentified, their graves reading: "A soldier of the Great War, known unto God."
Others, like Pte McGhee and the other Gordon Highlanders, do not even have a grave to call their own. Their names can be found nearby on the memorial to the missing at Tyne Cot, the world's biggest Commonwealth war cemetery.
Mr Mackie said he was determined to pay his respects to his grandfather and his friends, and urged other families to join him.
"We're only here today because of these people," he said.
The names, birth place and service numbers of the 11 Gordon Highlander soldiers who are buried with Sergeant Ross and Pte McGhee are: Pte John Gibb, Insch, (S-40285), Lance-Corporal Hugh Farquharson, Arbroath (S-9050), Pte Thomas Harvey, Townhead, Glasgow (S-3071), Lance corporal John Ross Watt, Monkton, Ayrshire, (S-10400), Pte J Grant, Paisley, (S-17538) and George William Heads, Durham, (S-17790).
The following soldier's locations were not listed: Charles Williamson (S-3650), Pte John Brown (S-41329), Pte D Munro (S-4287), Thomas Scobbie (S-41358) and Stephen Stokes (S-10404).