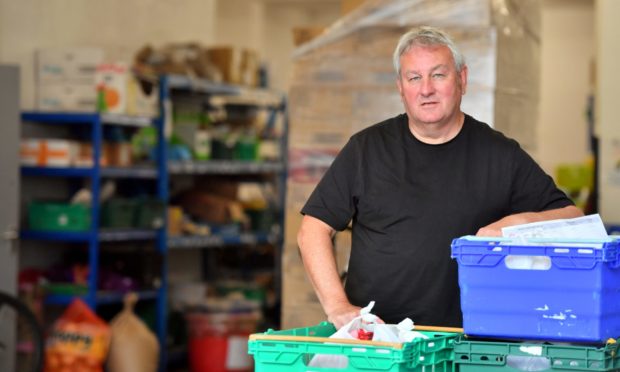 A north-east foodbank has issued 7,000 more emergency food parcels in just five months of the pandemic than were needed throughout all of the last year – with worries demand will soar in the months to come.
Aberdeen-based CFine shared more than 25,000 packages, supplying 6,100 people with around a week's worth of food, between April and August.
During the 2018/19 financial year, 18,000 emergency bundles were dished out, aiding an estimated 8,000 people.
Dave Kilgour, development work manager, told The P&J: "The reality is three times the people are needing support around welfare.
"We have been giving out three times of emergency food since Covid-19, facing a phenomenal demand which has increased massively.
"Our big concern is the implication of furlough ending next month and basically more people becoming unemployed."
Last week, Chancellor Rishi Sunak confirmed a new jobs support scheme would take effect in November, admitting the government "can't save every job" and instead focusing on "viable" employment.
It has been criticised for not going far enough to stop a raft of job losses.
In June, Scotland's chief economic adviser estimated 98,000 jobs could be lost in Aberdeen and Aberdeenshire in the economic fall out from the pandemic.
Figures from the Scottish Government show nearly 7,000 jobs are on the line in Aberdeen and Aberdeenshire.
Between April and July, more than 5,100 workers from 70 different employers in the city sought help from the Pace redundancy support service.
That's the highest of any local authority area in Scotland, followed by Aberdeenshire's 1,762 workers from 27 firms.
It compares to 636 potential redundancies in Glasgow and 919 in Edinburgh, as well as 41 in Moray and 1,010 across the Highlands and Islands.
Employers only have to flag plans with Pace if they plan to make more than 20 jobs redundant – meaning the true toll good be far greater given the challenges faced by sectors with smaller workforces, such as the hospitality trade.
Scottish Conservative north-east MSP Liam Kerr said the figures must prompt First Minister Nicola Sturgeon to "finally take notice" of the struggles being faced in a region "decimated" in the pandemic.
He said: "If these figures don't act as a wake-up call to the SNP government about how hard hit workers in the north-east have been during this pandemic then I don't know what will.
"In Aberdeen, more than five times the number of workers facing redundancy are seeking help than in other parts of Scotland which is extremely alarming and is further evidence that more financial help is needed for the north-east now – not later.
"The coronavirus pandemic has clearly hit the north-east hard and following a second lockdown, our region continues to be hammered which is why additional support needs to be given."
A spokesman for Economy Secretary Fiona Hyslop fired back at Mr Kerr's remarks, telling The P&J: "The Scottish Government is doing everything we can with the powers we have to help workers and companies across the north-east and the rest of Scotland, with a total support package for business worth more than £2.3billion.
"But the Scottish Tories should be lobbying their Westminster bosses to reverse their decision to scrap the autumn budget, something that creates huge uncertainty for vital public services here in Scotland.
"That – and the Tories' reckless plans for a catastrophic No-deal Brexit at the end of the year –  shows why it is more important than ever for Scotland to gain full control of economic policy."
Although headquartered in Poynernook Road near Aberdeen harbour, Cfine shares supplies with the needy in Aberdeenshire, Moray and the Highlands, as well as Shetland, Orkney and the Western Isles.
Charity bosses have noted an alarming rise in the number of people seeking help from their Support Advice Finance Education team (Safe) as the number of people on universal credit in Aberdeen soars too.
In March, there were around 8,000 claimants in the city but by the middle of last month they had almost tripled in number to nearly 23,000.
In the same time, more than 1,200 people have asked Cfine's Safe for help, compared to only 983 between April 2019 and this March.
Due to "huge underclaims", according to Mr Kilgour, Cfine is next week running a benefit take up campaign with other city organisations such as the council and Citizens Advice – aimed at helping people to understand if they could be entitled to more support.
People in need of help can contact the Safe team on 01224 531 386, freephone 0800 953 4330 or email safe@cfine.org