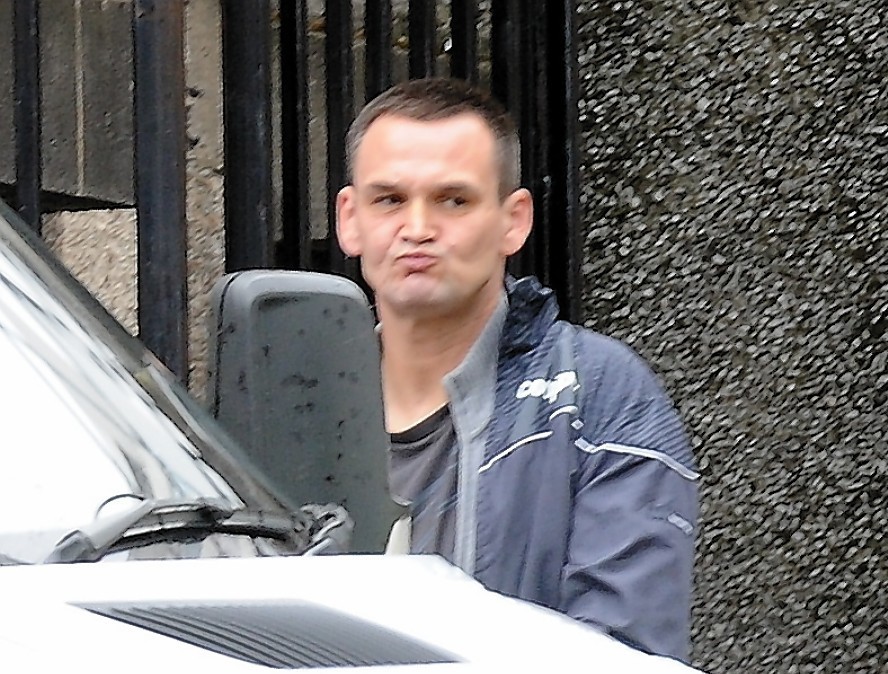 An armed robber who staged two terror raids within days of his early release from prison after taking "legal high" drugs was jailed for four years and three months yesterday.
Ewan Hardie pointed a knife at his first victim and demanded she open a till at a convenience store in Peterhead, before getting away with £1,300.
The following day the 42-year-old struck again at a post office in Aberdeenshire, where he claimed he had a gun and escaped with £970.
Hardie offered residents in the village of Newburgh cash to drive him to Turriff, but was turned down.
He was detained by police responding to a 999 call.
At the High Court in Edinburgh yesterday, Hardie, described as a prisoner in Peterhead, admitted assaulting and robbing employee Ela Kadlubowska at Micro Movies, in Chapel Street, Peterhead, on February 2.
Advocate depute Murdoch MacTaggart said Ms Kadlubowska was alone in the store when Hardie, who had his face covered, repeatedly ordered her to open the till while pointing a knife at her.
He also admitted assaulting and robbing the owner of Newburgh Post Office, Laura Adams, on February 3 while carrying a piece of wood and claiming to be armed with a gun.
The court heard Ms Adams was working alone behind the counter and had just finished serving a woman who had a young child with her when Hardie barged in.
The customer heard him shout "I've got a gun", before he kicked a hole in a door through to the area behind the till and crawled through to get money from a cash drawer then fled.
The advocate depute said: "Both ladies and the child were frightened and distressed from what they had observed."
Lady Scott said she would have jailed him for six and a half years for the latest offences, but for his early guilty plea.
"This was a stupid, desperate and dangerous course of conduct," she said.
She also ordered that he be kept under supervision for a further three years.
The court heard that Hardie, who was living in homeless accommodation, had a significant criminal record and had been jailed for 16 months for assault and housebreaking before he was released on licence on January 21 this year.
Defence solicitor advocate Shahid Latif said that in the period leading up to the offences Hardie had taken "legal highs".