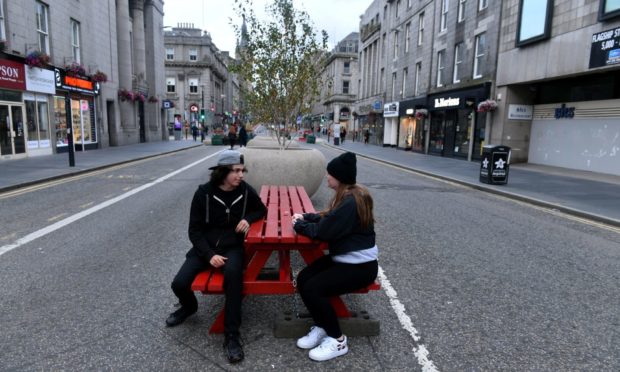 Picnic benches installed on Aberdeen's Granite Mile just days ago are to be removed by the council.
The five brightly-coloured tables were put in place on the pedestrianised stretch of Union Street, between Bridge Street and Market Street.
But council staff are being forced to shift them after the political leaders agreed they could be seen as an invitation for people to gather in groups, against Covid-19 rules.
The benches were the latest work paid for with a £1.76 million physical distancing grant, which has caused controversy across the city.
Suggested by the Disability Equity Partnership in July, the council claimed a rush on timber had delayed their installation until the very week national guidance changed – limiting outdoor meetings to six people from two households.
SNP city councillor Michael Hutchison said: "These picnic tables were a poorly thought through idea.
"It's become a recurring theme in recent months that the council wastes money on plans most people could tell you won't work."
A council spokeswoman said: "They were originally discussed with the aim of providing places to rest for people with mobility issues and the elderly around the city centre.
"Last week, the national guidance changed in terms of groups of people meeting from different households, such that the installation of these benches is now under review with the option available to store them until the conditions around Covid-19 have improved."