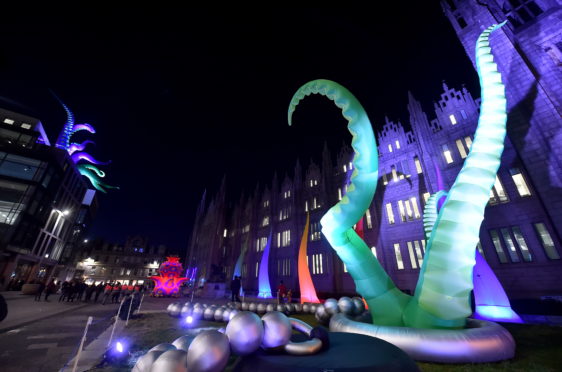 Funding has been announced for creative freelancers and organisations across Scotland to help them continue their work during the pandemic.
A total of £1.68million has so far been handed out though Creative Scotland's Open Fund.
One project to benefit was Aberdeen's Spectra festival, whose theme this year drew inspiration from the year of coast and waters.
Organisers received £50,000 to put towards an innovate light and sound experience.
A music production company in the Highlands, Watercolour Music, received its own funding boost.
Lost Map Records situated on the Isle of Eigg will also benefit from a share of the cash, as will Highland artist Helen Sedgwick.
In all, 37 organisations and 80 individuals will receive funding targeted at supporting creative development across the country and helping the creative and culture sector adapt to the current circumstances.
Creative Scotland chief executive Iain Munro said: "The Open Fund: Sustaining Creative Development is all about helping to ensure Scotland's creative workforce and organisations have opportunities to continue to develop creative practice in a challenging context.
"Thanks to £7.5million from National Lottery and the recently announced additional £3.5 million boost from the Scottish Government, we're able to support people who are addressing the impact of the ongoing Covid-19 pandemic on their creative practice.
"People are thinking about new ways of working, how to reach audiences in different ways, taking creative risks or looking at ways to stabilise existing activity.
"Even in these challenging circumstances, these awards are a positive reflection of Scotland's resilient and innovative creative sector."