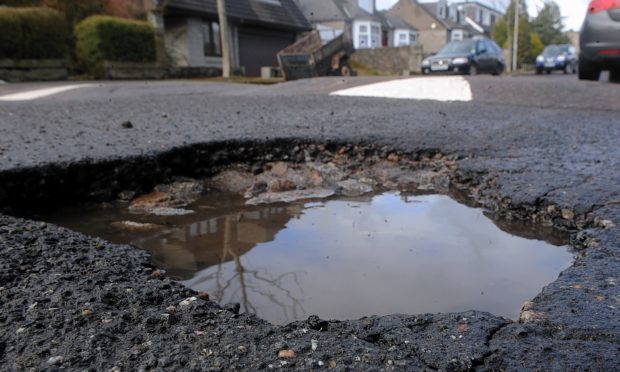 North-east councils have paid out almost £600,000 in compensation for damage and accidents in the last three years.
Loss of property, flooding, fires and even issues caused by bin collections and grass cutting have all contributed to the hefty sum.
Overall, 577 claims were paid out during the three years to April – with potholes and other road defects counting for more than half of these.
Both local authorities have said some of the payments will have been covered by insurance.
But the figures have been branded "a failure" by what Aberdeen Central MSP Kevin Stewart called "a distracted" Aberdeen City Council.
He added: "If this council's leadership focused on getting on with the job of running this city properly then they likely wouldn't find themselves with quite as many compensation claims."
One Aberdeen man, who had to file a claim after a grass cutter shattered his car's rear window, said he was "shocked" by the totals being shelled out.
Over the three-year period, Aberdeen City Council paid just under £227,000 relating to 180 claims. Aberdeenshire settled 397 at a cost of £372,000.
Vehicle damage caused by potholes accounted for 230 of Aberdeenshire's claims.
The local authority logged 55 requests for compensation relating to grass cutting, and 21 for damage or loss of property.
There were also a number of individual instances, with one claim for fire in 2018-19 costing £4,500, and a £792 pay-out relating to "inadequate supervision".
Meanwhile in Aberdeen there were 107 claims for road defects – including three relating to snow, ice and winter weather – and a further 22 covering similar concerns on pavements and other walkways.
Additionally, a singular "verge defect" resulted in a £16,000 compensation claim in 2019-20, while £650 was issued the previous year relating to an unspecified incident involving a roadside sign.
A spokesman for Aberdeenshire Council said it has "public liability insurance policy in place for all the activities" it undertakes.
He said: "Where claims are received, these are passed to our insurers who assess whether the council is legally liable for the claim and, if this is the case, our insurers confirm the appropriate level of settlement."
An Aberdeen City Council spokesman said: "Given the breadth of the services we deliver, there are incidents which may give rise to claims against the council under this policy.
"Insurance policies are purchased using public money and the council has an insurance programme which balances a level of self insured risk or excess so not all payments made in relation to claims will come from the council directly."
The SNP is the largest opposition party on both Aberdeen City and Aberdeenshire councils.
Jackie Dunbar, the Aberdeen group's operations spokeswoman, said it was "disappointing" so much money was being paid out by each council.
She added: "I would encourage people to ensure they report any issues with the roads in our city, the likes of potholes, so the council can ensure the necessary repairs can take place."
And Neil Baillie, the SNP representative for Inverurie, said the figure shows local authorities "do take responsibility for their actions" and that many of the compensation claims occur from "unfortunate and unforeseen circumstances".
However, he added that he and other councillors had "a duty to question" compensation claims paid out by Aberdeenshire Council to ensure that incidents were unavoidable, rather than having occurred "by consequence of inattention".