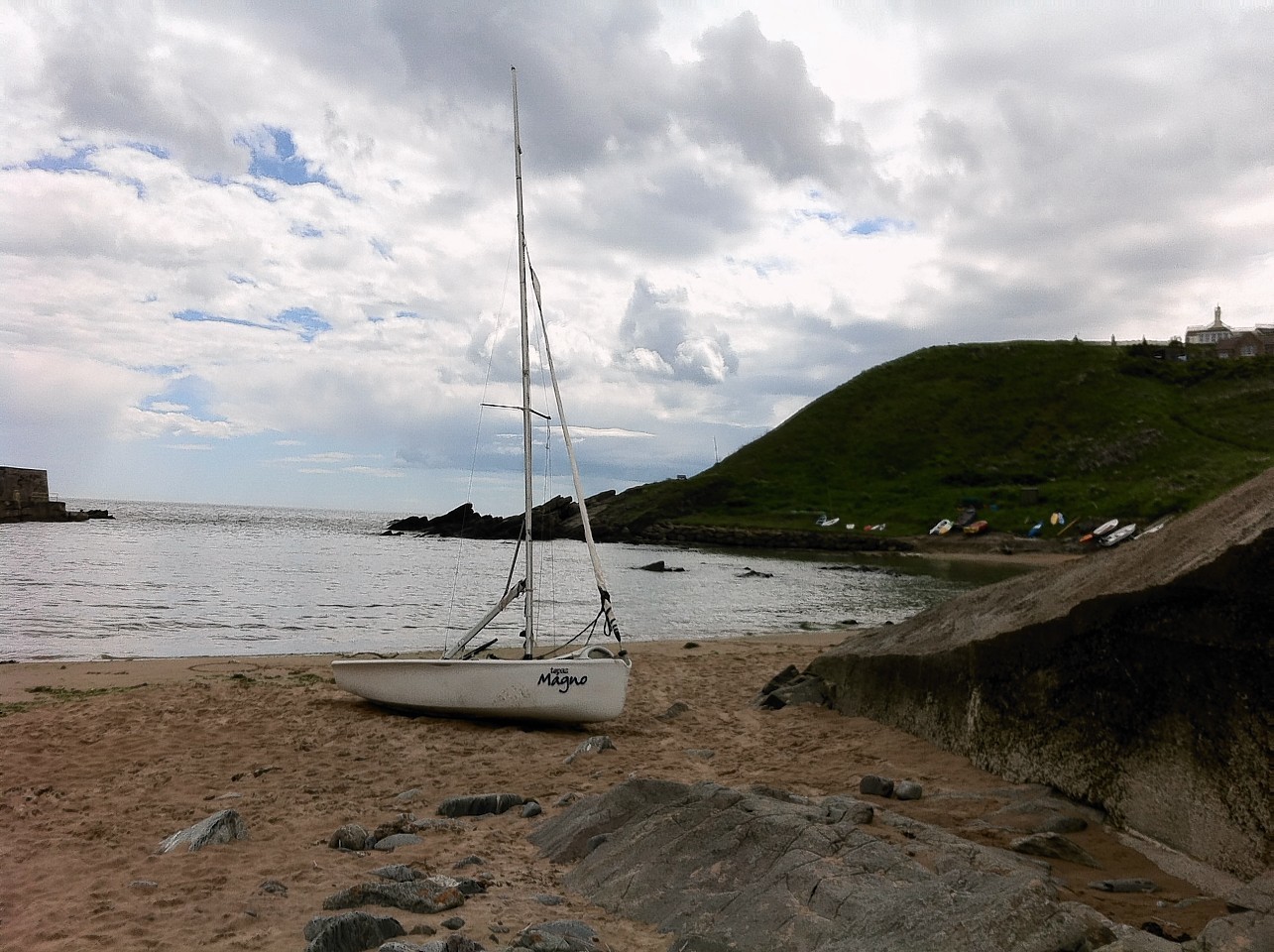 A sailor swam more than a quarter of a mile to safety after his tiny boat capsized in the North Sea.
The man – named locally as John Tubey – was thrown into the water off picturesque Collieston when his dinghy overturned.
He managed to grab hold of the upturned hull of his boat as it drifted past the village and then swam to rocks at the south side of its harbour.
Mr Tubey – who is understood to be in his 60s – was taken to Aberdeen Royal Infirmary with minor cuts and suspected hypothermia.
A local man spotted the upturned sailing dinghy and alerted coastguards.
He said: "I was walking past my pier windows and I saw him drifting. He was just a black lump in the sea when I saw him. I saw the boat was capsized and I phoned the coastguard.
"He drifted. It was overturned, and then he tried a couple of times to go upright but the wind and waves were knocking him back over."
Peterhead lifeboat and Cruden Bay's coastguard team were sent to the scene.
The eyewitness added: "When he went out of my vision I went around to the headland and saw he was clinging to the boat.
"There was me and another chap walking along. He was out of the water by the time we got there and we just moved him to a safer position.
"Then the coastguard and police and lifeboat came and recovered his boat and him."
He added: "He was shaken, I think it was the onset of hypothermia. He scarred his legs on the rocks as he arrived."
The man added that a strong gust of wind may have capsized the boat.
Police were called to the scene at 10.40am and an ambulance arrived 10 minutes later, after which Mr Tubey – who is believed to have been wearing a lifejacket – was taken to ARI.
A coastguard spokeswoman said: "We got a 999 call at about 10.30am from someone who lives in Collieston who could see it. He was about 400 metres (440 yards) out.
"He was just out there having a sail."
The dinghy was recovered by the Peterhead lifeboat and brought back to shore around noon.
Mr Tubey's family did not want to comment yesterday afternoon as they waited for news about his condition.