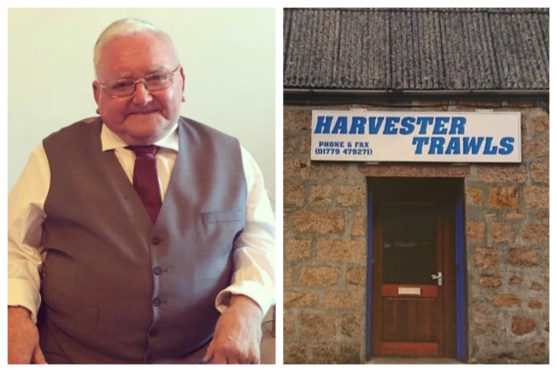 For three decades, John "Jock" Buchan was known by generations of those in the fishing community as the hard-working family man behind Harvester Trawls Net Store in Peterhead.
His family said the "well-liked" businessman was recognised all across the north-east and beyond, even as far as Inverness and Kinlochleven, for his love and passion for the fishing industry.
But despite giving so many years of his life to his work, he was also a doting and proud father, who always had time for his children John, Kevin, Danielle and Melissa.
Mr Buchan died on September 27, aged 69, at Aberdeen Royal Infirmary after a long illness.
He established his net store on Bath Street in the 80s, and ran it until 2009 – though he continued working in the fishing industry until retirement in 2013.
Son Kevin said: "He was in the fishing industry for most of his adult life.
"He went to sea for a short while on the fishing boats, and then came on-shore soon after than and started working as a net manufacturer.
"He did that for about 10 years before starting up his own company.
"The store really was his life. I don't think you could meet someone that could be more passionate for their work."
Mr Buchan's daughter Danielle added: "He really loved his business, but he always had time for his kids as well. We were never forgotten about.
"Nothing was ever too much of a hassle. If we called him and needed help he'd come straight away and pick us up, still wearing his boiler suit.
"He would always help us in whatever way he could."
After an industrial accident in 2013, Mr Buchan had to have his left leg amputated.
Kevin added: "Although he was wheelchair bound after that, he still made time to visit people in his mobility car, and was still actively involved with the fishing community around Peterhead.
"Although he wasn't able to do the heavy physical work, he started making flies for fly fishing.
Danielle said: "He had his table set up at his living room window where he'd make them, and every time anyone passed the window they would get a wave."
Mr Buchan's funeral will be held today in private due to current restrictions, but donations in lieu of flowers can be sent to Ward 107 at Aberdeen Royal Infirmary.
For any friends wishing to pay their final respects today, a funeral cortege will leave the Almanythie Hall on Peterhead's Grange Road at 10am, before going down West Road, turning onto Charlotte Street, going around the harbour, along Gadle Braes, down past Buchanhaven Pier, up the High Street and then back to Almanythie Hall.