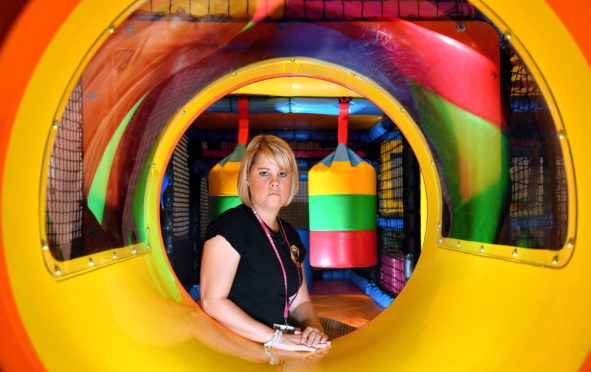 The founder of a soft play centre that caters for children with additional support needs has begged the Scottish Government to allow her to reopen.
Rebecca Mennie, who has been working with children for 17 years, first opened up the Becs Inclusive Sort Play Centre in Inverurie last year, after noticing a lack of similar facilities specialising in providing a safe place to play for youngsters with disabilities.
But the facility, which is run as a registered charity, had to shut in March after just six months in operation due to the pandemic.
Miss Mennie, 33, has argued that with businesses such as gyms and pubs allowed to open their doors under strict Covid-19 restrictions, and with soft play centres permitted in England since mid-August, the Scottish Government should allow her premises and others like it to open once again.
Last week, First Minister Nicola Sturgeon said the date of reopening for such facilities in Scotland had been postponed until October 15 at least, arguing that easing restrictions was not the preferred route with infection rates on the rise.
Miss Mennie said: "Everything we do at the centre is all about inclusion, and additional support needs children are always mixed with mainstream children.
"We work with local charities like Downs Syndrome Scotland, Spikin Autism and Charlie House.
"Kids thrive on socialising. It's so important for their development.
"If you've had a baby in March, your child is now coming up for seven months old, and this first year is so crucial.
"By the time we start opening things up, these kids might not know how to socialise or how to play.
"A lot of parents struggle to play with their kids, so going to these places means they are able to have experiences, meet milestones, and get exposed to the world and people around them.
"Basically, the places being allowed to open have been based on income, and soft plays obviously don't bring enough cash in for the government.
"It's getting ridiculous now. I think the government really needs to start thinking about how this is all impacting the younger generation."
A Scottish Government spokesman said: "We do not underestimate the severe impact this pandemic has had on play centres across Scotland – but we are at a critical point, the virus is rising again and everyone must play their part in stopping its spread in Scotland.
"We have always been clear that indicative dates are conditional on making sufficient progress in suppressing the virus.
"In light of the current situation, these indicative dates have been delayed.
"We are currently working with the soft play sector and other stakeholders to develop guidance for the re-opening of soft play centres when it is safe for them to do so."
He added: "Our absolute focus has been to help businesses survive and retain as much employment as possible – using the limited powers available to us and we have repeatedly urged the UK Government to transfer to us the financial powers needed to fully respond to the pandemic.
"Throughout this unprecedented economic crisis we have listened to businesses and business organisations and acted quickly to offer support which now exceeds £2.3 billion.
"Our support for businesses includes almost £900 million of non-domestic rates relief for retail, hospitality and leisure businesses including soft play centres; and the Small Business Grant Fund and the Retail, Hospitality and Leisure Grant Fund worth over £1 billion.
"We also created Hardship and Resilience Funds unique to Scotland, with a value of £185 million targeted at support for SMEs and the self-employed."