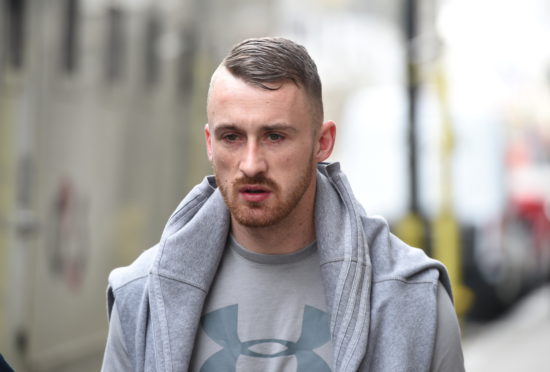 An Aberdeen man threatened to kill a local bully while armed with a sword and a knife to prove that someone "would stand up to him".
Steven Whyte pleaded guilty to the charges and was sent to jail when he appeared via video link at Aberdeen Sheriff Court yesterday.
Prosecutors said the 29-year-old was seen by witnesses on Moir Green in Northfield walking with a sword in his right hand and a knife in his left hand.
Whyte then approached a man and woman while holding the weapons and said "I'm going to kill you" to the male.
When Whyte was traced and arrested he immediately confessed but added that there "must be grasses everywhere".
Defence agent Ian Hingston said that the recipient of the threat was well-known to the courts through his involvement in crime, and had bullied Whyte from a young age. Mr Hingston did not divulge the name of the so-called bully.
The court heard that the incident was sparked when the unnamed local troublemaker visited Whyte's mum while carrying weapons and looking for him, leaving the woman "scared half to death".
Mr Hingston said his client decided then to show the man that there were "people willing to stand up to him".
Mr Hingston also said Whyte was "embarrassed and ashamed" that his behaviour caused witnesses a degree of alarm as he strode through the community carrying the pair of blades.
"That doesn't change the fact that this was a very serious incident," the lawyer added.
"He has never shied away from his involvement."
Sheriff Graham Buchanan told Whyte that he should have gone about the situation in a different manner.
He said: "I have heard what has been said on your behalf by Mr Hingston on the individual who seems to have been bullying you for a long time, but as you'll now understand, this is simply not the way you go about dealing with a problem like that."
Whyte, whose address was given as HMP Grampian, had recently been given early release from prison for offences also involving a sword and a knife.
Sheriff Buchanan made an order sending him back to prison for 13 months to serve an outstanding portion of that sentence.
For Whyte's most recent crime, he was sentenced to 14 months imprisonment which will be served after the 13 months.