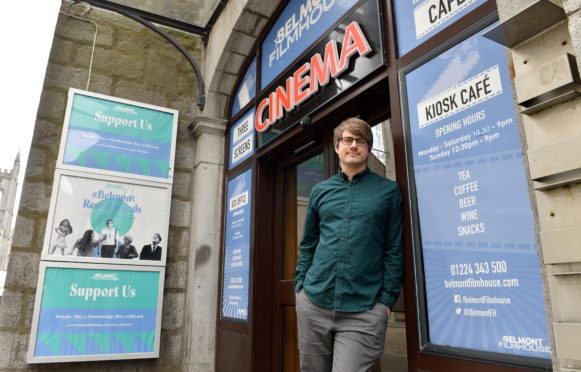 An Aberdeen city centre cinema has said current audience numbers are "not sustainable" as attendance has dwindled due to coronavirus restrictions.
Colin Farquhar, head of cinema operations at Belmont Filmhouse, sent letters to the cinema's members expressing concern over trading dropping to 20% of its usual ticket revenue.
The cinema boss said that despite numbers rising to around 30% over the last week, the business needs to "figure out ways of getting people through the door."
Mr Farquhar said: "Trying to spot a pattern is hard, but the restrictions have impacted us alongside student lockdown and the 10pm curfew of pubs.
"The audiences aren't quite where we want them to be, but I'm utterly convinced that there are people out there who want to come and see films if the feel that the environment is safe – we just need to get the right content for them.
"It's actually been a little better since that letter went out, but the problem is that financial sustainability is challenging because our capacities are so low."
Mr Farquhar added it was "difficult" for the cinema to plan ahead for winter without knowing what restrictions will still be in place.
He also said the closure of cinema giants Cineworld and Odeon was "concerning" for the industry.
Mr Farquhar said: "If further restrictions are put in place then we will just have to stay resilient and work on way to get our audience to take a chance on other titles.
"We've applied for a slice of funding and hopefully that helps us steady the ship."