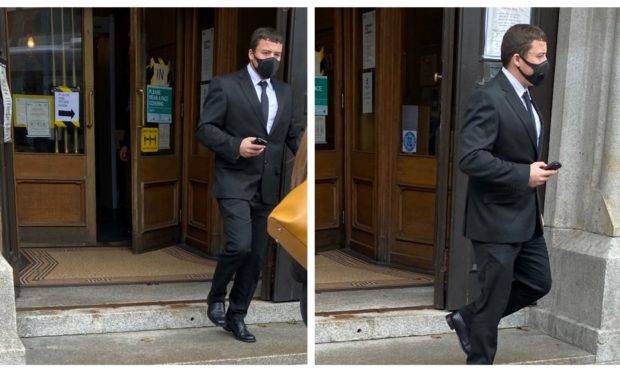 An Aberdeen man could face prison after organised the cleaning of a blood soaked crime scene.
Robert Snelling used bleach in an effort to hide evidence a man had been the victim of a brutal machete attack in his home.
Adam Oakes, known as Roberts, appeared at Aberdeen Sheriff Court earlier this week to admit assaulting Connor Watt, 22, with the weapon.
He hacked at his victims knees amid claims of stolen money and later told how he had "chopped up a kid's leg like Rambo".
Roberts is awaiting sentencing in connection with the assault, which left his victim in need of surgery and has rendered him unable to work as a labour and suffering from nightmares.
As investigations took place, police officers found Snelling and Roberts hiding beneath the floorboards of the property in King Street.
Fiscal depute Katy Begg said Snelling held a house party the night before the incident, during which it's claimed £600 of his friend's cash had gone missing.
He demanded those in attendance come back to look for it the next day and when Mr Watt did, Roberts attacked him.
Man viciously attacked 22-year-old with machete over missing cash
The court heard Snelling phoned an ambulance for Mr Watt but advised operators he had fallen off of a fence.
The 24-year-old later made a telephone call, believed to be to Roberts, saying he better "come down here" to clean the place up with bleach.
Ms Begg said he also sent a text message stating he was "getting his stuff together before the police come".
When officers did arrive, another man who knew nothing of the incident was initially considered a suspect while Snelling and Roberts hid under the floorboards.
He was said to be "terrified" and told police where the pair were hiding as soon as they left the house.
Snelling initially denied any involvement, informing police that he was at his grandmothers at the time.
Solicitor Peter Shepherd said the extent of his client's involvement was simply organising for the crime scene to be cleaned but this was disputed by prosecutors who believe Snelling made efforts to try and clean the property before reinforcements arrived.
Snelling pleaded guilty to attempting to dispose of evidence by cleaning a crime scene with bleach or other products and arranged for assistance from others in doing so.
Sheriff Graham Buchanan said Snelling was at "serious risk" of a custodial sentence.
Sentence was deferred until November.