Video: SNP's Louise McAllister elected new councillor for Ellon and District in by-election
By
Kieran Beattie
October 16, 2020, 12:16 pm
Updated: October 16, 2020, 5:03 pm
The SNP has retained their position for the Ellon and District ward in Aberdeenshire.
Louise McAllister narrowly held the position for the SNP, by just 25 votes, following a keenly-fought by-election.
Ms McAllister, who has lived in Aberdeenshire for the past 16 years and runs her own business in Ellon as a humanist celebrant, secured 1,683 votes after the application of the Single Transferable Vote count rules.
Conservative John Crawley was close behind, with 1,658 votes, while Lib Dem candidate Trevor Mason received 405, Labour's John Bennett attracted 114 votes and the Green Party's Peter Alexander recorded 112 votes.
Ms McAllister was elected at stage five of the vote counting process.
She fills the seat made vacant by the resignation of former SNP councillor Richard Thomson, who was last year elected as the SNP MP for the Gordon constituency.
The full results pic.twitter.com/3bUkc0HGdC

— Kieran Beattie (@KNBeattie) October 16, 2020
In total, 4,006 valid votes were cast, representing a 33.7% turnout. At the 2017 council election, there was a turnout of 47.2%.
Speaking moments after her victory was announced, Ms McAllister said the the declaration had been "heart-stopping stuff".
With the good news confirmed, she said she was "absolutely thrilled and delighted" to have been elected.
"It was very close, and that was probably always going to be the way, there's no secret about that," she said.
"But I will take the good of it. I have been given this opportunity and I hope that everyone in the area knows that, regardless of how they voted, if they come to me with an issue I will certainly do my best to resolve that and help people along the way when I can."
Mr Crawley thanked the residents of the ward who came out to vote for him, together with his election agent and party members who offered their support, and he congratulated Ms McAllister on her victory.
Voting in the by-election took place on Thursday, with new measures in place at polling places to prevent the spread of the virus, including disposable pencils and social distancing requirements.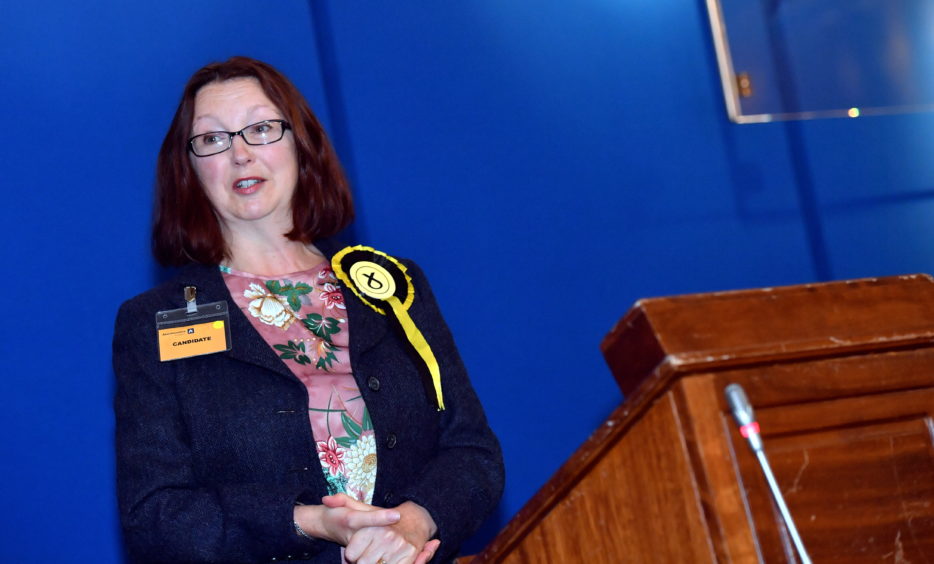 Jim Savege, the chief executive of Aberdeenshire Council and returning officer, said: "It has been a lot more work and and taken diligence to make sure it was a safe process.
"But the fundamentals have been the same in terms of polling stations and the count today, which has all gone really well."