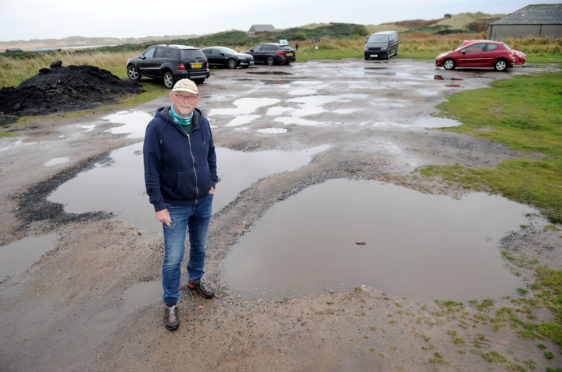 A £500,000 project to help protect a popular seal colony while also boosting a north-east village is gathering pace.
The Newburgh and Ythan Community Trust has been working since 2017 on plans to completely rennovate the car park at the end of Beach Road at the south of the village.
In recent years, the car park has become riddled with potholes due to frequent use by visitors eager to see the nearby population of grey seals, who live on the northern beach at the mouth of the River Ythan.
The trust has recently worked with volunteers to help patch up some of the holes, but has now lodged plans for a new 55-space car park to permanently tackle the issue.
As well as six dedicated spots for disabled spaces and a bike rack, the trust also wants to fix up nearby paths and boardwalks and provide easier access to the beach for those with mobility issues.
It is also hoped the project will help to encourage people to view the animals from the southern shore, and not from the northern shore, which is not permitted.
Ron Macdonald, secretary of the trust, said: "We undertook a visitor survey, and coming to see the seals was by far the most popular reason people gave for visiting, that was around 90% of the responses.
"So improving the possibilities for viewing them will benefit them, and take away some of the pressure of visitors going to the northern shore.
"The number of people coming to visit the seals has grown over the years, and we want to capitalise on that, if we can get people to spend money in the village, then we'd be very happy about that.
"It's an attractive destination, but the challenge is to not overdevelop it, and ruin the whole reason people go there, so the plan is to make it very sympathetic to the dune-scape around the area."
The trust has been allocated £100,000 from Aberdeenshire Council via the Crown Estate Coastal Communities Fund for the project, and the organisation is currently in the process of applying to various other organisations and sources of funding to make the new car park a reality.