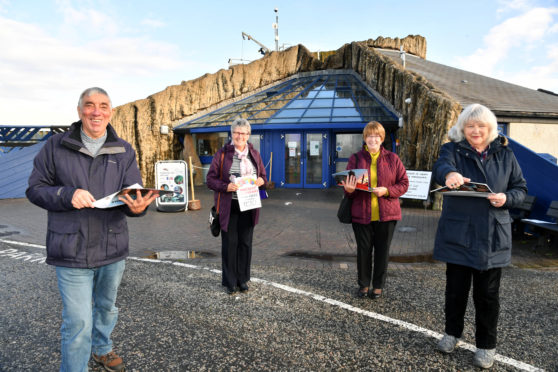 As the nation looks forward to brighter times ahead in 2021, north-east photographers of all ages are doing likewise with the creation of their annual charity calendar.
The Macduff community effort is putting a positive spin on 2020 by celebrating the area's stunning scenery along with its lockdown heroes and uplifting artwork from youngsters.
Volunteers from the Friends of Macduff Marine Aquarium, who gather entries for the fundraising Christmas stocking favourite each year, have dedicated a page to all those who have helped during lockdown.
The "hope and community" page will feature not just photographs, but drawings, poems and artwork to celebrate all who have supported the people of Macduff through the coronavirus pandemic.
As always, a panel of judges was formed to critique pictures of the area which had been snapped by 26 local photographers, to select artwork for each month and to determine the still-secret winner of the front page snap.
Chairman of the Friends of Macduff Marine Aquarium group, Keith Newton, said: "It has been a real challenge for the judges to choose from the wealth of excellent photos we received, many with different subject matters from previous years.
"That's a great compliment to all the photographers, particularly in the present circumstances.
"We are also very grateful to our sponsors who have supported the production of the calendar, making this a real community effort."
Comprising some new sights and locations in and around Macduff as well as some old favourites, the ever-popular calendar, raising money for the local aquarium and Friends of Tarlair group, is expected to once again sell 600-odd copies.
More than 200 have already been pre-ordered with some soon to be posted as far afield as St Albans in London, Oswestry in Shropshire and Brisbane, Australia.
Mr Newton added: "The back cover of the  calendar is dedicated to all those who have supported our community over the past months through the current pandemic.
"Also featured in the calendar are examples of artwork submitted to the aquarium by local children during lockdown.
"We are especially grateful to David Paterson for allowing us to sell the calendars in his Ships Chandlers shop as our usual venue, the farmers market, is not presently running.
"Calendar day is always very busy for us and we expect to sell most of our stock then, so David's support is much appreciated."
Copies will be on sale, and pre-orders can be collected, from 9am to noon on Saturday,  October 31, at Patersons Ship Chandlers on Shore Street, Macduff.
Cash, cheques or Paypal sales will be accepted for the calendar, costing £5 per copy or £20 for five.
It will also later go on sale Macduff Marine Aquarium, where only card payments can be taken, or by contacting the friends group on email FOMMAquarium@gmail.com, via Facebook or by calling Keith Newton on 01261 832849.  Posted copies cost £6.50 around the UK.