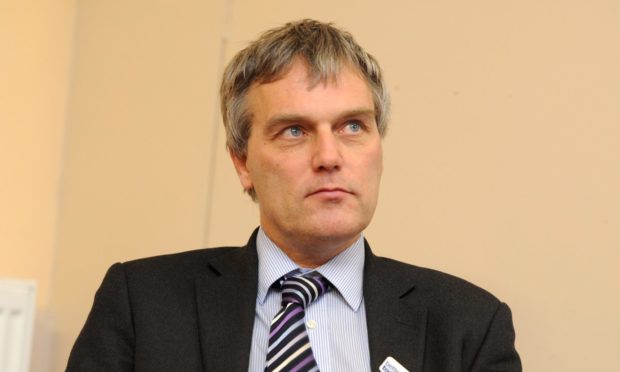 The Scottish Labour leader is being urged to ditch a controversial Aberdeen campaigner over racism allegations.
Richard Leonard is facing pressure from party members and political opponents alike to see Willie Young is removed from his role as Aberdeen Central CLP chairman.
The P&J understands the UK Aberdeen Chinese Association – which donated hundreds of masks to the city and Aberdeenshire councils during the pandemic – has written to Lord Provost Barney Crockett over a social media post Mr Young made on Sunday.
The former council finance convener is one of Mr Crockett's deputy lieutenants, representing the Queen at civic functions.
The tweet, which he claimed was "light-hearted humour", showed a caricature of a Chinese person accompanied by stereotypically broken English, as Mr Young criticised the Scottish contact tracing system.
SNP minister Kevin Stewart has called on Mr Leonard to remove the former Bridge Of Don councillor from his chairmanship.
The Aberdeen Central MSP said: "The image Mr Young shared is in incredibly poor taste, it's highly offensive, and many will consider it to be racist.
"It's disappointing that, rather than reflect upon why this image is offensive, Mr Young has doubled down and defended the indefensible.
"Across the political spectrum we all have a part to play in ensuring that there is no place for racism in our society and in our communities.
"If Mr Young cannot accept what he has posted is offensive then his party need to send a clear message out about that."
Mr Stewart's calls were last night echoed by the chairman of Aberdeen Labour University Students, Martin Le Brech, who said it wasn't only due to his "racist tweet".
"He's constantly bringing the party into disrepute," he added.
A Scottish Labour spokeswoman said all complaints of racism, antisemitism, bigotry and discrimination were "treated seriously", and dealt with in line with the party's procedures.
Mr Young again defended his actions last night, saying: "This tweet was not in any way racist, it was a humorous tweet about the inability of Kevin Stewart's Scottish Government to sort out the problems the SNP have created with their test and trace inefficiencies.
"I am confident most like-minded citizens of Aberdeen would want their MSP to stand up to the Scottish Government for them to ensure Scotland has a proper reliable Test and Protect system rather than getting involved in a Twitter spat.
"As for Labour and Richard Leonard, I first joined the Labour Party in 1979 and have worked with Richard and I am confident he does not think me a racist – and never has."