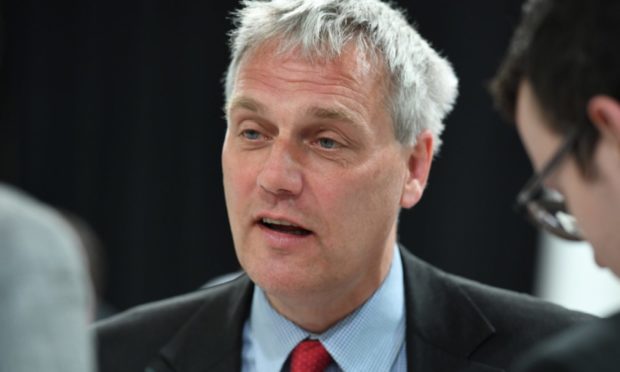 A top Aberdeen Labour figure and royal representative has been suspended by Scottish party bosses pending an investigation into an allegedly racist online post.
But former city council finance convener Willie Young claims he only learned of the ban when asked to comment on it by The P&J.
Party sources confirmed that Mr Young, the chairman of the Aberdeen Central constituency Labour party, has been placed on administrative suspension by Scottish Labour chiefs.
His future as deputy lieutenant, representing the Queen at civic functions in Aberdeen, remains unclear after lord-lieutenant Barney Crockett refused to discuss the matter last night.
Mr Young apologised after coming under fire last week for sharing what was said to be a "clearly racist" image of a fortune cookie claimed to be a replacement coronavirus test.
Inside, the scroll of paper showed stereotypical broken English and a base caricature of a Chinese person, complete with a conical rice hat.
Calls for him to step down from his role as chairman of the Aberdeen Central Labour group and deputy lieutenant followed from opponents from inside Labour and other parties alike.
It is understood the post on Twitter was brought to the attention of Scottish Labour chiefs not long after it was posted, when an official complaint was made.
Mr Young was then suspended the following day, Monday October 19, party sources report.
But last night the influential Aberdeen Labour figure told The P&J: "As far as I am aware I am still a member of the Labour Party, I have received nothing which suggests otherwise.
"Indeed, only on Monday as Aberdeen Central CLP chairman I received sensitive information regarding an update on membership and that membership update included my name on it.
"I would of course qualify my statement by reminding myself that we are speaking about the Scottish Labour Party under the disastrous control of Richard Leonard – so it could be that I am no longer a Labour member and that Richard Leonard has just forgotten to tell me and the membership secretary of his decision."
Mr Leonard has previously faced calls to sideline Mr Young over the controversy, which the former councillor claimed was only intended to humorously highlight flaws in the Scottish contact tracing system.
Last night, Labour HQ refused to comment on specifics, although a spokesman said: "The Labour Party takes all complaints of racism extremely seriously and they are fully investigated in line with our rules and procedures, and any appropriate disciplinary action is taken."
Grampian Regional Equality Council (GREC) reported that some in the north-east's Chinese community have complained about the "insensitivity" of the "so-called joke".
Reports of racially motivated crimes against people of Chinese and East Asian descent have soared since the outbreak of Covid-19 in Wuhan at the end of last year.
Mr Young said he was "grateful" to learn GREC did not classify the tweet as racist but issued an apology to those who found his post insensitive.
Mr Young now joins nine Aberdeen Labour colleagues who were suspended from the Scottish party in 2017.
The self-styled Aberdeen Nine were kicked out by then Scottish leader Kezia Dugdale for forming their coalition council administration with the Conservatives.
Successive Scots and UK party leaders have made promises to resolve the issue.
---
An earlier version of this story omitted the word "not" – inadvertently making it appear that Grampian Regional Equality Council had classified the post as racist.
We apologise for any confusion caused.