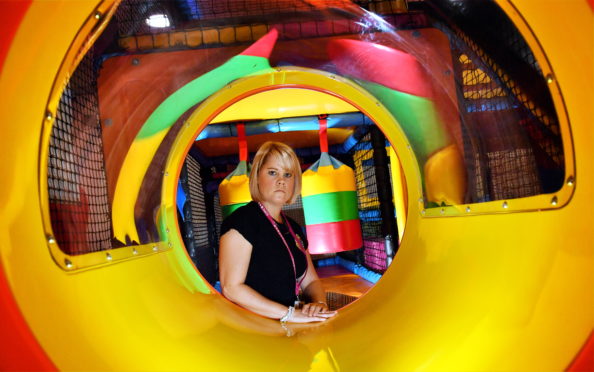 The owner of an Aberdeenshire soft play centre has vowed to reopen next month even if long-awaited government guidance has not been issued.
Guidance on how soft play centres can safely reopen for the first time since March is due to be issued in the coming days, but in the meantime the Scottish Government yesterday announced that one-off grants of up to £50,000 will be made available to both soft play facilities and nightclubs through the Covid-19 Contingency Fund.
Businesses operating multiple premises will be able to claim one full grant, as well as grants of up to 75% on additional properties.
Becky Mennie, founder of Inverurie-based charity BECS Inclusive Soft Play Centre, welcomed the funding although said it was a "drop in the ocean" – and revealed she plans to open next month even if the guidance has not been issued.
The 33-year-old claimed businesses working in the sector have been "strung along" without a commitment from the government of when, or how, they can safely welcome back children and families.
Her soft play centre caters specially for children with additional support needs.
She said: "If they don't give us the guidance we need, I will open my doors on November 7, because at the end of the day my charity is for the benefit of children, and children with additional needs.
"They can come at me with fines all they want, but even for a £1,000 fine if children can benefit and help to meet their social needs and get exercise, then I'm happy to take that.
"There comes a time where we keep being told the guidance will be next week, then the next, then the next, and we're just being strung along now at this point.
"They keep not giving us a date, so we're going to give them one and see what they'll do."
The grants are based on rateable value, and are available in brackets of £10,00, £25,000 and £50,000.
Miss Mennie added: "It's great to see some funding finally, but £25,000 is just not enough.
"That £25,000 will go at the drop of a hat with all of our overheads."
Business Minister Jamie Hepburn said: "We know that nightclubs and soft play centres have been particularly badly hit by this pandemic – unlike the majority of businesses, they have not been allowed to open since March.
"These grants take account of those exceptional circumstances and will provide a boost as we continue to tackle the virus.
"We don't want any business to remain closed for a day longer than is necessary but public health is paramount.
"Unfortunately we are at a critical point with infection levels rising again and it is not safe to lift restrictions on these activities.
"Local authorities will be contacting businesses directly to get the information needed to progress their claim."