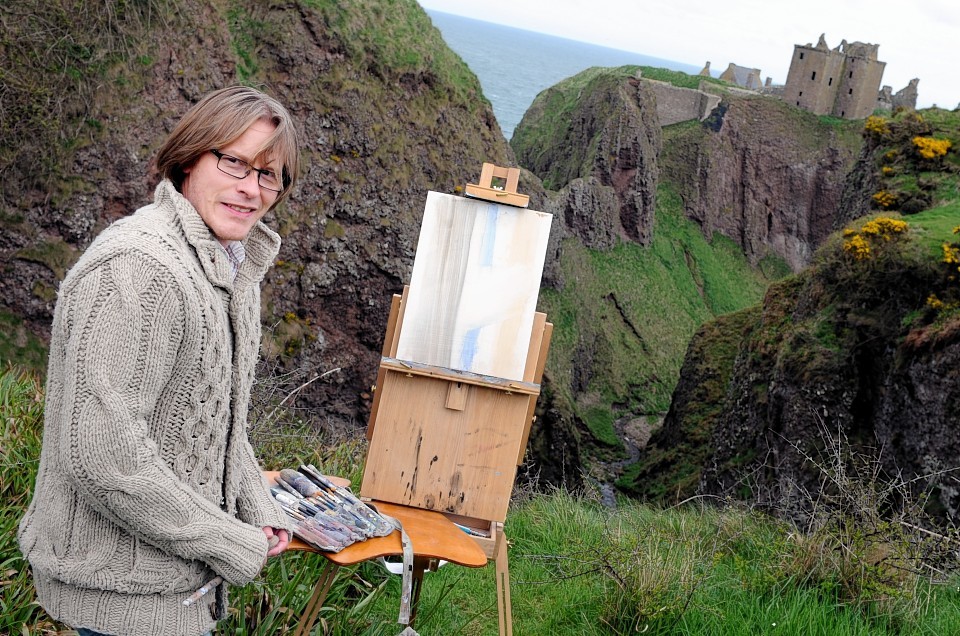 A painting of a north-east landmark that was created in front of an audience has raised more than £5,000 for charity.
In May, Drumlithie artist Michael Samson tested his skills by painting Dunnottar Castle – with 250 people watching his every move.
He had prepared a sketch of the mediaeval Aberdeenshire fortress prior to the evening and both the painting and sketch were auctioned in aid of Alzheimer's UK at the end of the event.
The evening was hosted by the Stonehaven Rotary Club and yesterday the group's president Peter Newell handed over £5,312 to the charity.
Mr Samson's father Joe, who is the community convener for the rotary club, said the evening had been a great success.
Mr Samson sen said: "There were more than 250 people there on the night and Michael chatted while he was working, told a few anecdotes and answered questions.
"He had the sketch of the castle but started the painting on a completely blank canvas."
And Mr Samson jun said he also enjoyed the evening – despite some nerves beforehand – and is already looking forward to the next event.
"Before the event the idea of it terrified me but when I was up there on the stage I found it incredibly relaxing," he said.
"There was such a great team of people putting it together and the audience were very involved.
"The generosity of everyone there helped make it such a successful night.
"My grandmother Ellen Leslie had Alzheimer's for the last ten years of her life so it is a cause very close to my heart.
"The format seems to works very well so hopefully we can hold another event next year."