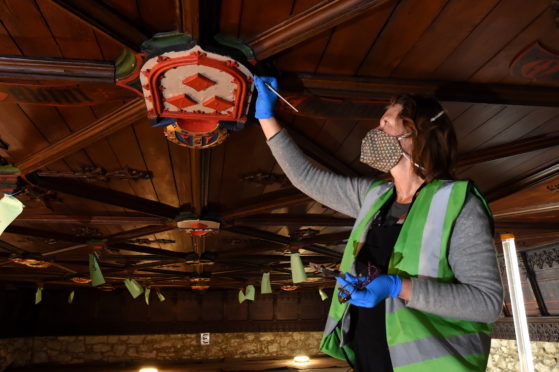 Aberdeen residents are being given the opportunity to see one of the city's most historic landmarks in an unprecedented fashion – as long as they have a head for heights.
The ancient St Machar's Cathedral, on the Chanory in Old Aberdeen, has opened its doors to the public to offer the chance to see its famous ceiling up close while it undergoes an extensive revamp.
The flat oak ceiling, which was constructed in 1520, is decorated with a large number of impressive heraldic shields representing the monarchies of Europe – and visitors yesterday got to see them receiving a new paint job.
After climbing to the top of scaffolding to view the intricate process being carried out, they were able to hear all about the £1.85 million project being undertaken to conserve it for future generations.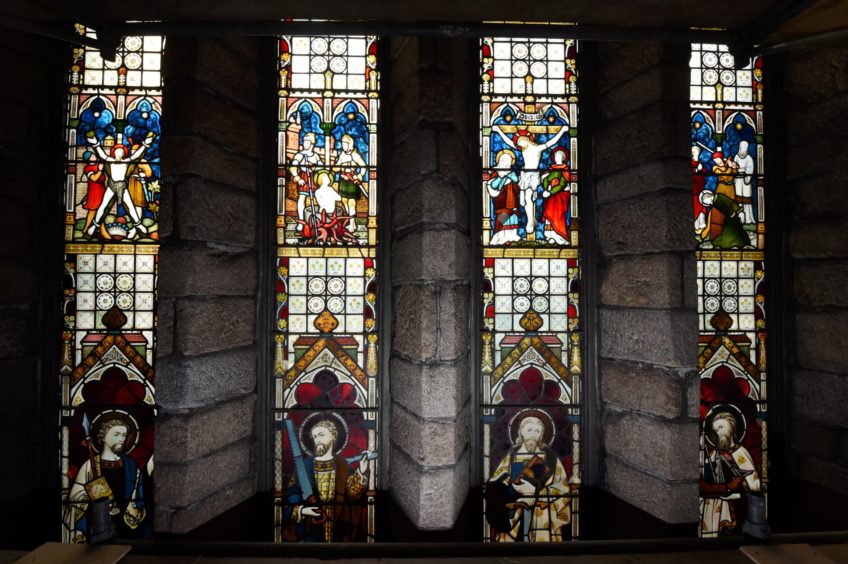 Education officer Katherine Williams, who is leading the tours, said they represented a "once in a lifetime" opportunity for locals to get a new perspective on the old building.
She said: "We thought it would be a fantastic opportunity for people to actually see the work in progress, because it's probably a once in a lifetime chance to get this close to the shields on the ceiling and the stained glass windows.
"The main thing we are trying to achieve with the scaffolding tours is to bring more knowledge and awareness of the heritage and history of Aberdeen.
"So far, the tours have been very popular and people have been really supportive. It's been a joy and pleasure to talk to them and welcome them in back in the cathedral."
She added: "St Machar is at the heart of Aberdeen. There is so much history and a wealth of knowledge here, so we want to make it as accessible to come and visit.
"The next step is to bring different audiences to all the different projects that we are doing and create more workshops for schools and young people.
"We are currently working on a new website as well, where we want to share more video tours and other online activities for people to join."
After being taken to the ceiling, visitors were even able to touch the ornate artwork which can normally only be seen from a great distance below.
Ian Munro, 83, of Old Aberdeen, has been visiting the cathedral since he was six and yesterday was one of the group who took advantage of the tour.
He said: "It's very good to see it restored once again. It would have been a shame to lose such a historical landmark. They've really done a fantastic job."
Professional tourist guide Frances Ann Cameron, of Turriff, conquered her fear of heights to have a look.
The 71-year-old said: "I've been to St Machar Cathedral so many times, but it was like I saw it for the first time today.
"I was completely amazed with all the fine details on the ceiling and the stained glass, that we had the chance to see up close."
The cathedral is believed to have been first established as a place of worship as far back as the 6th century.