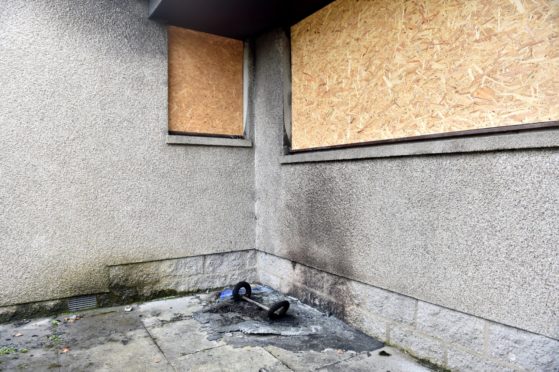 A north-east medical centre faced ruin and a Peterhead school was damaged as they became the latest targets for vandalism.
Only quick-thinking and the heroic actions of bystanders in New Pitsligo saved the village's medical centre from total destruction after a fire was lit there on Wednesday evening.
Pupils at Peterhead's Clerkhill School, meanwhile, returned from their October holidays to find vandals had struck in their playground, destroying outdoor work and burning fireworks on playing fields.
The "mindless" actions have been condemned by both the practice and school staff, while Central Buchan medical centre's practice manager Stella Millar was quick to praise villagers who came to the surgery's aid.
"One of the neighbours saw the flames at the back of the building and called upon another," she said.
"Between them they get a hose and fire extinguisher and actually tackled the fire while waiting on the fire brigade to arrive.
"Without these two guys, the building would have been lost.
"We really are indebted to them  – and not just us but the whole village – for their quick actions. Without them it could have been horrendous."
Ms Millar believes a wheelie bin was taken from the front of the surgery to the back where it was deliberately placed against the back of the building "so that it would take the whole surgery up".
"It was definitely deliberate. The practice manager's office and the waiting room widows cracked with the heat and have been boarded up and there's smoke damage inside around the windows too," she added.
"Thankfully we are still working and staff came in as normal.
"We are all grateful to our neighbours, in particular Keith Finnie, Andrew Allan and Sheila Gray for their quick reactions . We have been advised that if not for their actions the building would have most certainly been lost."
The fire was under control by the time two fire engines arrived but crews made the area safe before police arrived to being their investigations, which are ongoing.
Central Buchan councillor Anne Simpson said: "It's amazing that the local neighbours nearby did what they did. Without them there would be no health centre service in New Pitsligo.
"It's an awful thing to do deliberately."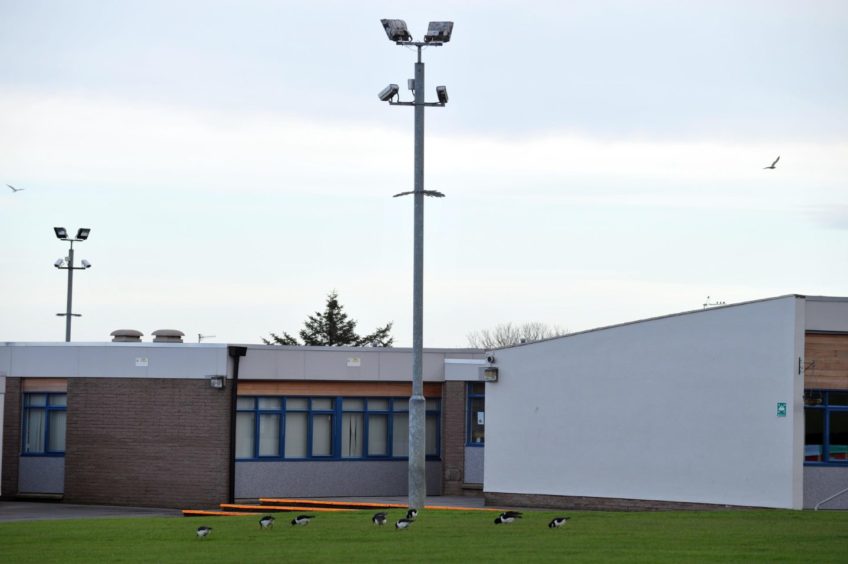 Her counterpart Norman Smith said: "I hope the culprits can be found sooner rather than later.
"There has been a lot of mindless vandalism in our area lately and it's unacceptable.
"Places such as doctors' surgeries are under enough pressure with Covid-19 at the moment without having this to deal with as well."
In Peterhead, meanwhile, youths have been criticised for their activities on the grounds of Clerkhill School.
Aberdeenshire Council's head of education, Vincent Docherty, said they had been guilty of "wanton destruction".
"Pupils at the school have recently seen their outdoor class work destroyed by callous youths.
"There have also been a number of recent fireworks displays that have burnt grassy areas of the school grounds.
"Anyone with information about the instances of vandalism should contact the police."
Town councillor Stephen Calder said anti-social behaviour is a "recurring problem" at the school and suggested the problem will just get worse following the closure of the Modo youth project within the town.
"I am hearing from residents here in Peterhead that there's an increase in crime generally since the Covid-19 lockdown," he said. "
"People are obviously taking it out on the community which is not fair."
Police say they are already cracking down on youths gathering at the Cairntrodlie school.
Sergeant Diane MacDonald said: "This has led to engagement with groups of youths who have been dispersed from the area and we have made it very clear that their behaviour is unacceptable.
"We have now learned of mindless damage to school property and enquiries are ongoing to identify those responsible."
Anyone with information about the damage at Clerkhill School is asked to contact police on 101.
Head teacher Ann-Louise Murray said: "I would like to thank parents and the wider local community for their support and perseverance over the last few months.
"They have been a huge help to me and the school. Your continued assistance is greatly appreciated."