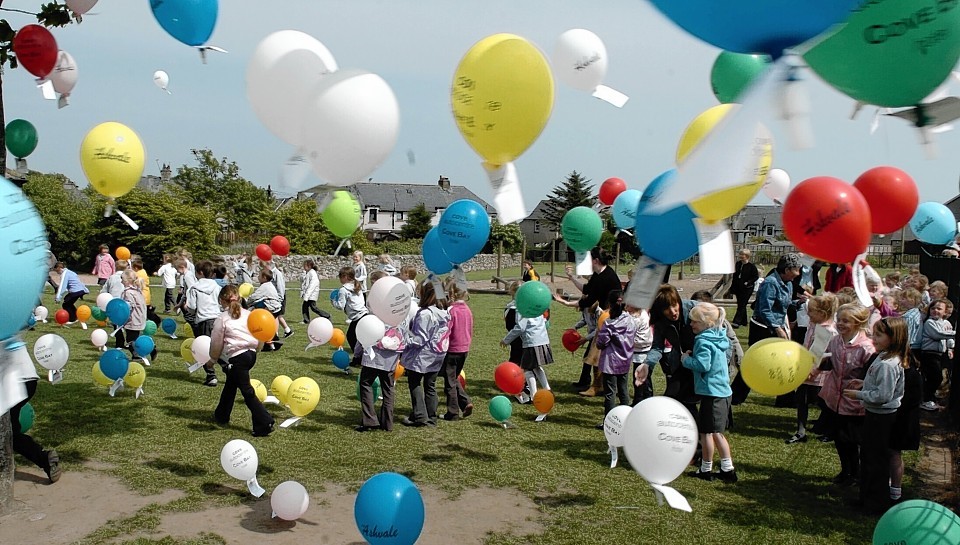 Councillors are being urged to back plans for a ban on mass releases of balloons and lanterns.
Local authority officials want to outlaw the practice on council-owned land and at council-sponsored events even if they are on private ground.
Aberdeenshire Council's infrastructure services committee will discuss the issue later this week.
Plans for the ban have already been welcomed by conservationists, who regularly campaign against the mass release of balloons because of the impact they can have on the environment and wildlife.
A report prepared by the council's director of infrastructure services, Stephen Archer, for Thursday's meeting says: "The mass intentional releases of helium filled latex balloons and Chinese-sky lanterns have increased in recent years.
"These balloons and lanterns pose hazards to wildlife and livestock, causing injury and death.
"Lanterns can also cause injury to humans, damage to buildings and cause false call-outs to the coastguard."
Remnants of lanterns – which are made of thin paper and lifted by the heat of a naked flame – were found at Forvie National Nature Reserve in 2013 and on farmland in Aberdeenshire.
Mr Archer's report says that when a balloon is released it floats to an altitude of as much as five miles, where the temperature and pressure causes it to become brittle and fracture into pieces.
They then float back to earth and can take up to six months to degrade.
The pieces can last longer if they land on water and the remains of balloons have been found in the digestive systems dolphins.
A spokesman for the Marine Conservation Society welcomed the council's proposals.
He said: "Any moves to reduce the number of balloons being released into the air are welcomed and this sounds like a very proactive approach which we would support."