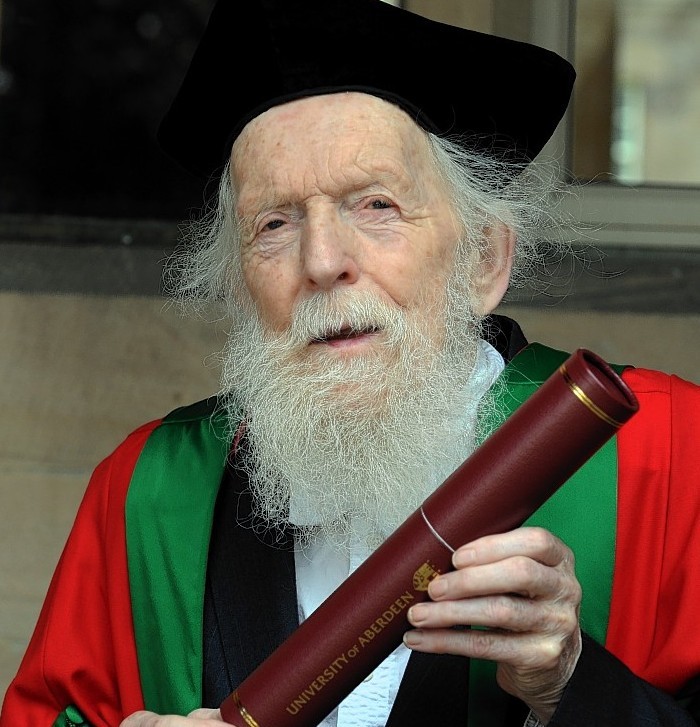 It is more than 60 years since Dr Adam Watson graduated from Aberdeen University for the first time in 1952.
And yesterday the pioneering north-east mountaineer and ecologist received yet another honour from the institute that shaped him as a scientist.
Born in Turiff in 1930, to solicitor Adam Watson Snr of the town's Stewart and Watson, Dr Watson has become one of the foremost authorities on the Cairngorm mountains.
He has been walking in the area since the age of 16, and carried out ground-breaking work on Scotland's red grouse and ptarmigan populations.
His years of work were recognised yesterday with an honorary doctorate from Aberdeen University at the first of its graduation ceremonies.
Hailed as a "scientific pioneer" by the university's Professor Chris Soulsby during his laureation address, Dr Watson claims the pursuit of knowledge started for him at the age of seven.
Even now, aged 84, it's a quest that shows no sign of diminishing.
Dr Watson said: "I was very curious as a child, I was always asking questions and not getting answers, and often nobody could tell me. I was determined as well.
"I graduated here in 1952 first, I was brought up in Turriff so this is my home university, then I went to Canada and got a PHD there in 1956.
"I got an honorary doctorate from Stirling and this one I regard as my fourth – I'm a doctor-doctor-doctor-doctor now."
On his beloved hills, the Cairngorms, Dr Watson said he never believed in the term "conquering" to describe the accomplishment of reaching the top.
He added: "I regard them as old friends. I know them very well. There's something about the Cairngorms and going back to it."
Aged 84, Dr Watson is still researching from his home in Crathes, Royal Deeside. More recently, he has turned his focus to snow, in particular its longevity in Scottish mountain ranges.
He said: "I have been retired since 1990 but I'm still doing research paid out of my own pocket."
He was joined yesterday by his wife Jenny Watson, a former Aberdeenshire councillor, and their daughter Jenny Easton.