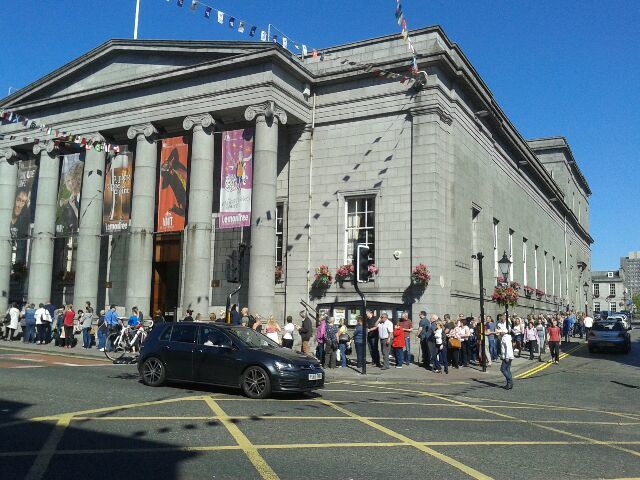 Hundreds of Billy Connolly fans were left disappointed after tickets to the comedian's Aberdeen shows sold out in under an hour.
The 2,600 briefs went on sale at 9.30am yesterday but fans started queuing for the box office more than five hours before.
Joyce Summers, press manager for Aberdeen Performing Arts, said: "We knew this was going to be a busy day – the queue outside the Music Hall started at 4.15am.
"We sympathise with those who were disappointed, but we made every effort to maximise box office capacity and continually monitored the situation. The website struggled with the sheer volume of traffic at one point.
"We are now looking forward to welcoming Billy Connolly to the Music Hall for two great shows to kick off his High Horse tour."
Julieann Donnelly, 28, and her father managed to secure tickets after queuing for more than three hours.
She said: "I'm just ecstatic, absolutely ecstatic. I can't wait.
"We've been here since 6.15am, but there were folk a few in front of us queueing from the back of 4."
Others were not so lucky, including one couple who joined the queue at 7.15am.
The husband said: "There was about 35 people in front of us in the queue outside the Music Hall and when we got inside, before we even got to the desk, a member of staff came and said they were sold out.
"There was no priority given to people who had waited all hours, it was shocking. And now they're already being sold on ticket touting websites for £440 each."
He said he and his wife had tried to get Billy Connolly tickets in the past, both online and over the phone, but had never been successful, and wanted to give it one last shot before they emigrate to Australia in November.
By the end of the 50-minute rush, 18% of the tickets had been bought in person, with 71% purchased online.
The Big Yin will visit the city's Music Hall on Monday, September 29, and Tuesday, September 30, to kick off his High Horse Tour.
He will then travel to Perth, Edinburgh and Dundee, before spending a week at Glasgow's SECC.