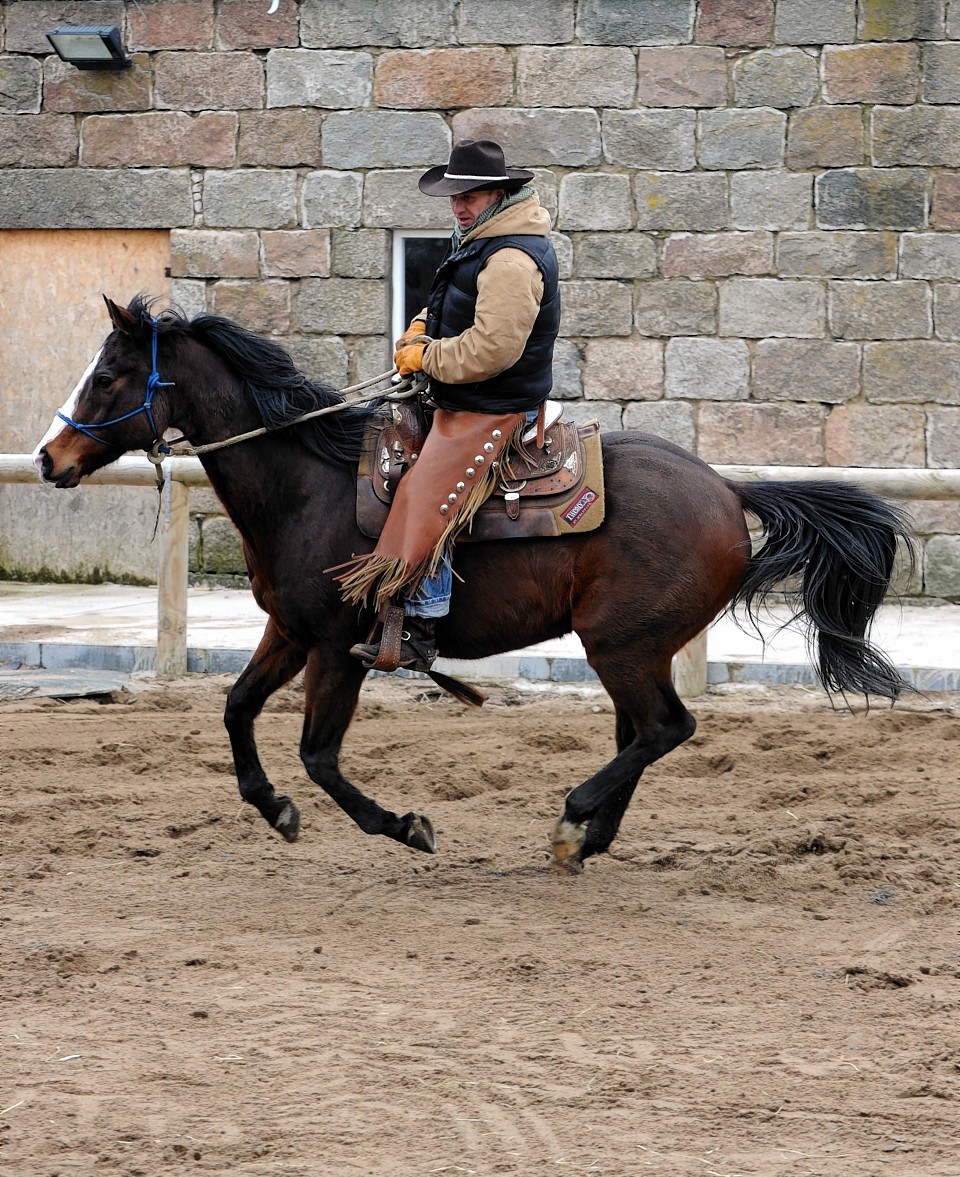 As he walks around the arena, gently following the man in the ring with no lead rope, there is no sign of the flighty spirit traditionally associated with racehorses.
Champion Peopleton Brook arrived at Horseback UK last year, after retiring from the racing world with nine wins.
When his handler, Jock Hutchison, waves an umbrella in his eye line or energetically flaps a noisy flag, Brook barely flinches – making him an ideal companion to build up the trust of injured veterans.
And after Mr Hutchison puts him in a western saddle – bigger than those used by jockeys – with a rope halter and no bit, he is happy to be ridden around the arena using simple techniques established on the ground to prepare him to follow commands at the slightest touch.
For some of the servicemen and women, this is their first foray into horsemanship, and building up a trust between man and beast is essential.
"You want the horse to follow you, so you've got to be a good leader," Mr Hutchison said.
"The guys need to lead the horse before they sit on him, and trust each other.
"What we've discovered about guys with post-traumatic stress disorder is that their interaction with the horse over the week has a huge impact. They become one, and the horses can sense things.
"We have 30 horses and we need them all – after each course, the horses are put out for two weeks to run with the others and get it out of their system."
And while Brook is helping give servicemen and women a new lease of life, Mr Hutchison insists they are giving just as much back to the retired racer.
The horse, latterly trained by Brendan Powell, was a brilliant sprinter in his day and ran 92 times before he retired with a tendon injury.
In 2013, Retraining of Racehorses sent him to Aboyne – knowing there was more to the champion than being put out to pasture.
Brook will be making a special appearance at the Perth Races on July 30, as punters are treated to a celebration of the thoroughbred.