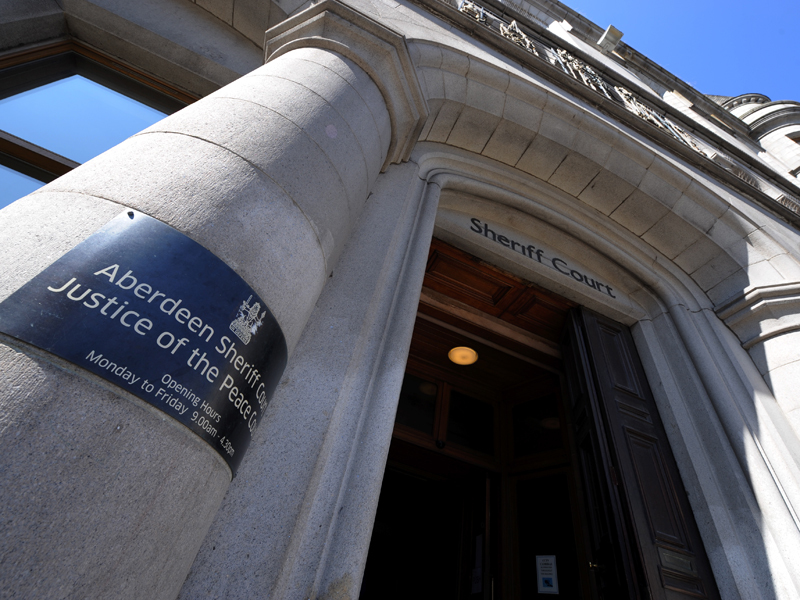 An oil worker has gone on trial accused of a 24-year campaign of violence against women in the north-east.
David Cox is accused of repeatedly assaulting his girlfriend, and later his wife, who he allegedly pushed out of a moving car and, on separate occasion, attacked when she was pregnant.
It is also claimed the 63-year-old repeatedly punched and kicked a child and threatened the youngster with a bayonet.
During the first day of his trial at Aberdeen Sheriff Court yesterday, the court heard evidence from Rosemary Ringwood, an accountant who started seeing Cox in the late 1980s.
The 59-year-old said it started off like any "normal" relationship, but cracks started to show when they moved in together.
She recalled one incident when, shortly after losing her father, Cox allegedly "pushed" or "shoved" her into a door.
But she put his reaction down to her being "miserable".
"I thought perhaps I was being difficult to live with – I had just lost my father," she said.
Mrs Ringwood told the court that Cox lashed out again when they were out walking their dogs on a beach, but that she could not remember why he did it.
In 1990, the couple were offered the chance to move to Aberdeenshire from Lowestoft after Cox, a contractor, landed a new job with Shell.
"I said I did not want to move up to Scotland to become a battered wife," she said.
"He assured me that was not the case and that it wasn't going to happen."
But she told the court that weeks after moving into a cottage at Glassel, near Banchory, her partner put his hands around her throat and squeezed as they lay in bed one night. as they lay in bed one night.
On another occasion, she said he pushed her to the ground and dug his knees into her back after they fought over whether or not to get a Christmas tree.
"It was like something went off in him," she said.
Mrs Ringwood told the court that she eventually did "a runner" back home to England when she realised she could no longer be with the accused, who now lives at 32 Woodcock Court, Stonehaven.
Cox's solicitor David Moggach QC asked the witness if she was mistaken about whether the alleged incidents happened, as she could not tell for sure how the attacks came about.
"Do you think I came all this way to tell lies?" she asked.
"I tried to block out the whole thing."
Cox is accused of attacking his ex-girlfriend between 1989 and 1992, his wife between 1993 and 2013 and the child between 1999 and 2012.
The trial, before Sheriff Graeme Napier, continues today.